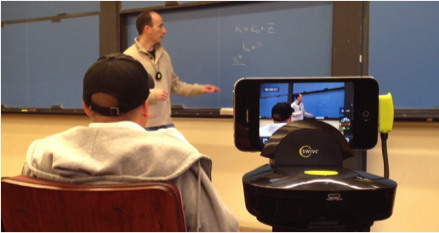 Game changer for education?
---
April 12th, 2012
By: Vlad
Under: Uncategorized
Early in our development, during the user research phase, we have met with a lot of people from different backgrounds. Among them were educators experimenting with video in their classrooms. The primary concerns were high cost and ease of use. We listened to their thoughts on video and its use, and integrated the feedback into the Swivl's features and our software roadmap.
When we launched our product a month ago, we were blown away by the response from the customers in education. We are excited about the diverse use of video in the classrooms and innovative ways educators use video to improve teaching methods, engage with students, and improve the overall teaching experience. And now we have a product that meets the needs and at the right price.
Some of the uses are more obvious, because Swivl fits the need perfectly. It follows the subject of the video and records everything that is going on with high quality audio. So Swivl is ideally suited for teacher assessments and student teacher observations. Swivls are being tested in several top US teaching universities and the feedback has been great. Everyone recognizes that Swivls is bringing great value and will improve the experience through additional app development. We have had a rainfall of ideas coming from the educators.
Another obvious use is lecture capture, "flipped classrooms", and broadcast. Only a few lucky schools can afford fancy AV setups with operators running the equipment and the rest are resorting to less expensive, but not as effective alternatives. They still cost thousands of dollars, but make the presenters feel locked up and constrained. We have heard from numerous educators who bought Swivls to have an easy and inexpensive way to record short videos, clips, assignments, and experiments.
A more surprising use, and a favorite of mine, is giving Swivls to students – from elementary to university level. As expected, students grab a Swivl and become completely interactive with it. They feel free to express themselves in front of it, create great sharable videos, practice their presentation skills, record assignments, and many other uses. They are the most creative in how they use the Swivl and the creative results they achieve. With Swivl's low cost and educational discounts, you can get one for every student.
We would love to hear and see more from all of our customers in education. We are excited to be part of the video revolution in education.
We are putting together all the ideas on education under www.swivl.com/education