Overview
Once you start using Swivl for extended periods of time there are many things to consider, like the created video files can get rather large.  There are many ways to deal with large video files, and we are working on adding more capabilities to make it easier to get the files off the iOS device and to your final destination.
Considerations
When making long recordings (like lectures or classes) there are several things to consider:
Power
Storage
Setup and preperation
Moving files
We have some recommendations on each that will make it easier for you to use Swivl.
Power
Swivl base will last 4-6 hours on fresh AA batteries.  Swivl marker will last 10-12 hours on fresh batteries.  The amount of time an iOS device last is highly variable and depends on the age of the device, video recording quality, etc.  Swivl does not draw any power from the iOS device when they are connected.
If you are recording 4-6-8 hour videos, we recommend that you use a Swivl AC Adapter for the base and fresh batteries for your marker.  Swivl AC adapter will not only charge Swivl, but will also keep up the power in your iOS device.
Setting up Swivl with AC Adapter requires you manage the AC cable and we have some additional directions here
Storage — Video File Sizes
First, you have to understand how big the video files can get depending on what iOS device you use, at what resolution, and which camera. This table is to help you understand it better:

| iOS Device | Camera | Resolution - Size Button | Size: megabytes per minute of recording |
| --- | --- | --- | --- |
| iPod Touch | Rear Facing | 720p - Large | ~50MB |
| | | 480p - Medium | ~28MB |
| | | 320p - Small | ~15MB |
| | Front Facing | 480p | ~28MB |
| iPhone 4 | Rear Facing | 720p - Large | ~50MB |
| | | 480p - Medium | ~28MB |
| | | 320p - Small | ~15MB |
| | Front Facing | 480p | ~28MB |
| iPhone 4S | Rear Facing | 1080P - Large | ~100MB |
| | | 480p - Medium | ~28MB |
| | | 320p - Small | ~15MB |
| | Front Facing | 480p | ~28MB |
| iPhone 5 / iPod Touch 5 | Rear Facing | 1080P - Large | ~100MB |
| | | 480P - Medium | ~28MB |
| | | 320P - Small | ~15MB |
| | Front Facing | 720P | ~50MB |
Storage — Good ideas for dealing with video on iOS devices
Make sure you have plenty of space on your device.  See table above to give you a sense of how much space you need.  Ideally make sure you have 2x the space
To find out how much available space you have on your iOS device, go to Settings->General->Usage
Setup and Preparations
If you are using Swivl AC Adapater, make sure you have plenty of AC cable free and it does not interfere with Swivl motion.  If you are not sure, please check this page - AC Adapater Setup
If possible, use front facing camera — this way the video will be smaller and you will be able to see yourself and the video recording status
Record 1-2 short videos practicing the recording.  Test how well the audio works — is the microphone too far? too close? Do you see where the video files are created (hint: check Swivl video library)
Do not record one 8 hour video.  Periodically stop and restart the recording.  Usually it takes 10-20 seconds if you have recorded an hour video to stop and restart it.  Doing this will create more manageable files.
Moving Video Files off iOS Device (Swivl App)
DO NOT MOVE LARGE VIDEOS TO YOUR PHOTO ROLL – iOS does not handle moving or copying large files very well — it takes a long time and sometimes fails.
Save in iTunes (preferred method)
Connecting your iPhone or iPod to your computer
Itunes should open allowing you to click on your device on the left (1)
Click on the App Tab at the top (2) and scroll all the way down until you see Swivl App
Click on Swivl App (3) and select the video(s) (4) then Click on Save To (5)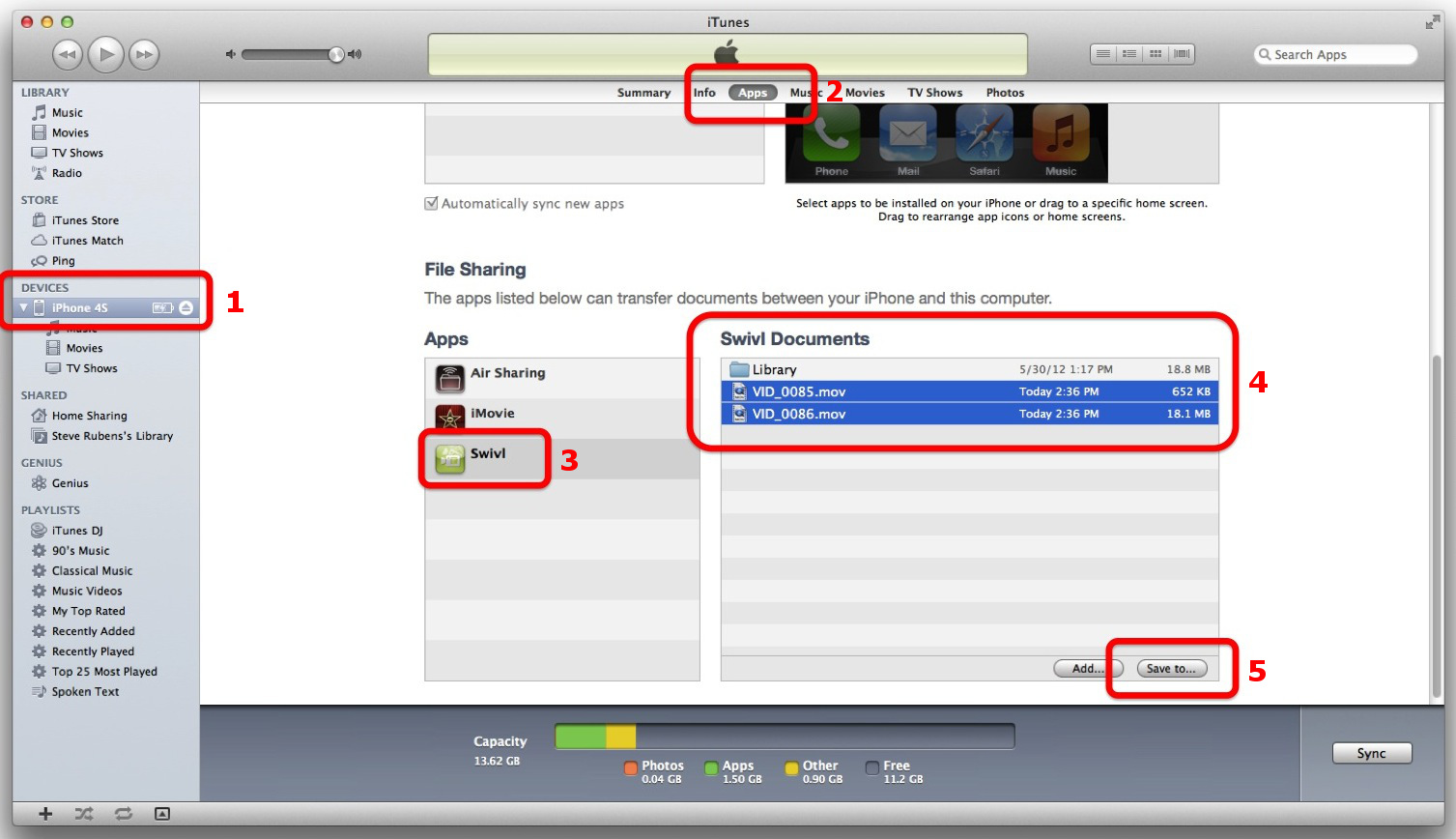 Uncommon ways to move large video files
Use iExplorer App
iExplorer is a free app for Mac and Windows, and allows you to connect to your iOS device and browse files and folders.
iExplorer is available here: iExplorer
Once connected, you can find the Swivl video library, under Apps->Swivl->Documents->Library->Videos.  All videos will be listed as separate files in the library.  You can copy the files to your computer.  Please note that copying can take a while for very large files.