Hear speaker's voices
Captures high quality digital audio through a lossless wireless connection between the marker and base, so you can always hear the speaker's and instructor's voice. See our video demo. Only works with iOS devices.


Follows you to capture more
It automatically follows the marker using line of sight technology. This allows you to take video from up close and capture more details, including white board content. It follows up to 33ft, and swivel's 360 degrees horizontally and 30 degrees vertically.


Place it anywhere
It can be placed on any surface in a room, or get mounted on most standard tripods for even more placement control. This means it can accommodate even the most unusual of layouts.

Control what gets captured
The Swivl has remote controls for video from the marker. This allows you to start and stop video on demand and capture only what you want to capture. It also has an SDK that allows for remote telepresence, mobile based controls and more.

Diverse service options
The Swivl is designed to give you a range of video service options. Use our app and simply upload to YouTube. Broadcast your presentation using Ustream. Video conference with GoToMeeting or Webex. Use our SDK partners apps and services Torsh, Sibme and Iris Connect for teacher professional development. Or just video chat with Facetime or Skype while multitasking.
Broad iOS compatability
Compatible with the iPhone 4, 4S, and iPod Touch (4th Generation). Also iPhone 5, iPad Mini, iPod Touch 5th Gen with Apple Lightning adapter and in landscape mode only. Not compatible with iPhone 3GS or older, iPod (non-camera versions) and iPad.
Works with cameras
Works with any tripod mountable pocket video camera like Flip or Kodak, tripod mountable webcams like the Logitech C930e, or point and shoot cameras under six ounces.
Packed with accessories
The Swivl comes with a tripod accessory, lanyard, batteries and USB cable. The lanyard is for wearing the marker for best audio performance. The USB cable is for firmware updates and power.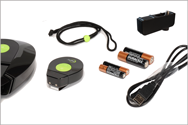 Flexible power options
The Base operates on two AA batteries and provides you with four hours capture. It also can be operated with a separate AC Adapter accessory that will simultaneously charge your iOS device. The Marker operates on two AAA batteries with up to 10 hours of operation.
Android support
Product is not enabled to work with Android software at this time. However, our basic following capability will function without any mobile phone software. Our phone holder is compatible with Android phones under 11mm.