Fostering Relevant, Connected Learners: Part 1
In last week's webinar, Steven Anderson addressed eight elements that make up a relevant, connected educator and he shared how connectedness empowers learning. As educators, it is important that we pass along these same values to our students. In this two-part blog post we will look at the eight aspects of a relevant, educator and how those can lead to relevant and connected students.
Practice and Model Lifelong Learning – As educators, we should always be excited and eager to learn. Learning never stops and can take place anywhere and anytime, even more in today's technologically connected society. To be a model for our students, we must connect with other educators. Last week, Todd Nesloney shared the importance of building a personal learning network through social media. As you build your PLN and take advantage of summer learning through webinars, blogs, conferences, Twitter chats, etc. think about how you can replicate these same learning experiences for your students or staff. The idea of a Genius Hour might be a great way to start!
Views Failure as Part of the Learning Process – As adults, we learn through trial and error, not a grade on a paper. How many times have you tried out a lesson idea and had it turn out as a flop, only to tweak and improve for next time? We must provide our students with the same opportunities to learn from their mistakes and failures. The use of blogs and digital portfolios is a great way to showcase learning. George Couros not only has an amazing blog, but he has compiled resources and information around the benefits of blogging and use of digital portfolios in education.
Believe in Sharing and Collaboration – During the school year, it can be so easy to become bogged down and isolated in our classrooms trying get things done. Many educators find the summer to be extremely rejuvenating because we are able share and collaborate with others. It is important that we make it a priority to share and collaborate throughout the school year and encourage our students to do the same. Virtual
Willing to Explore, Question, Elaborate, and Advance Ideas Through Connections With Other Educators – Today's economy encourages problem solving, creativity, communication and collaboration. It is imperative that we are willing to explore and connect with other educators to grow. In fact, Vygotsky's theory of the zone theory of the zone of proximal development points out that learners can acquire knowledge more rapidly when working with others who are more expert in a given task. Because of this we must not only be a model to our students but provide them with occasions to build these skills and encourage them to connect with other students in a productive way.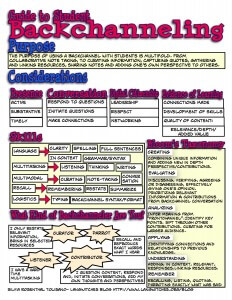 Whether used before, during, or after instruction it is important to have a space for learners to engage in discussion, questioning, and collaboration. While there are many tools that can be utilized, Twitter, TodaysMeet, Padlet, and GoogleDocs are a few that come to mind. By creating a collaborative document, a meeting room, or a Twitter hashtag for your classroom, school, or subject, users are able to dialogue about their learning.
Engage students by asking them to share their curiosities.
Assess prior knowledge.
Brainstorm ideas for projects, cause/effect relationships, answers, etc.
Actively take notes or recap lessons to share with others.
Share a life experience or metaphor related to the content learned.
Pose and/or participate in discussion questions.
Ask questions and help to answer questions.
Invite an outside expert to participate or host the a backchannel or discussion.
YOUR CHALLENGE:
Because relevant educators believe in sharing and collaboration, part 1 of this challenge is to refer a friend! Send this link to a fellow educator and ask them to participate and learn in the Summer Learning Series. When they complete the first challenge, make sure that they reference you in their tweet!
Questions for Reflection:
How are you sharing ideas, lessons and resources with others?
Are your students (and staff) idea generators or mere consumers of content?
What opportunities do your students (and staff) have to connect with others that have similar interests?
Do you encourage your students (and staff) to explore their interests in the same ways that you are able to do?
Do you force information on your students (or professional development on your staff) or do you cultivate a culture where students and teachers value personal growth and development?
Are your students (and staff) using digital portfolios to demonstrate growth and reflect on their own learning?
Have you considered using blogs or digital portfolios as an assessment tool for students and teachers?
Do you provide time and space for students (or staff) to explore, question, and elaborate?
Do you maintain ownership of the learning space or do you allow students (and staff) to learn from each other?