Fostering Relevant, Connected Learners: Part 2
In case you missed part one of this blog, we are continuing to look at ways that we can foster relevant, connected learners. I want to point out Steven Anderson's definition of a relevant educator – someone who keeps up with students and do what they deserve. It's important to reflect on this definition as we take a look at the next four aspects that make up a relevant educator.
Uses Technology and its Connections to Other Educators to Learn and Teach – A recent article published by Education Week outlines why educational technology is not transforming the way teachers teach. The article states that "teachers are far more likely to use technology to make their own jobs easier and to supplement traditional instructional strategies than to put students in control of their own learning." As educators, It is critical that we harness the power of technology to share best practices and innovative strategies. We must be willing to use technology to learn from each other and reflect on our own practices. When utilized effectively, Swivl has the potential to transform educational practice. These three ideas specifically relate to the connection we can have with other educators to learn and teach.
Self Reflection: Record instruction using Swivl and the Swivl Capture App. Then, watch and reflect on your own practice.
Coaching and Mentoring: Upload videos from the Swivl Capture App to Swivl Cloud and share with a coach or mentor. Then use the commenting tools to discuss and provide feedback.
Sharing Best Practice: Capture master teachers at their best and use Swivl Cloud to share with others. These videos may demonstrate effective use of technology, instructional strategies, or classroom management techniques. Groups can also be created within Swivl Cloud so that you have playlists/channels for learners to explore.
Uses the Tools of Technology to Personalize their Professional Development – The one-size-fits-all model is not not effective for professional development just as it is not effective for our students. We all have individual strengths and weaknesses and technology can help to differentiate and personalize learning. We must remember to use the tools and focus on empowering learners. Setting up a personal learning plan will help learners to set goals and take responsibility for their own learning. This plan should help learners to develop self-awareness, provide a structure for learning, and set defined, measurable goals. Technology can then be incorporated to meet these goals based on need, interest and learning preference. An EdSurge report published in June 2014 identifies four stages of the professional learning cycle: engage, learn, support, measure. It is in this report that you can find a summary of the tools that can be used in each stage.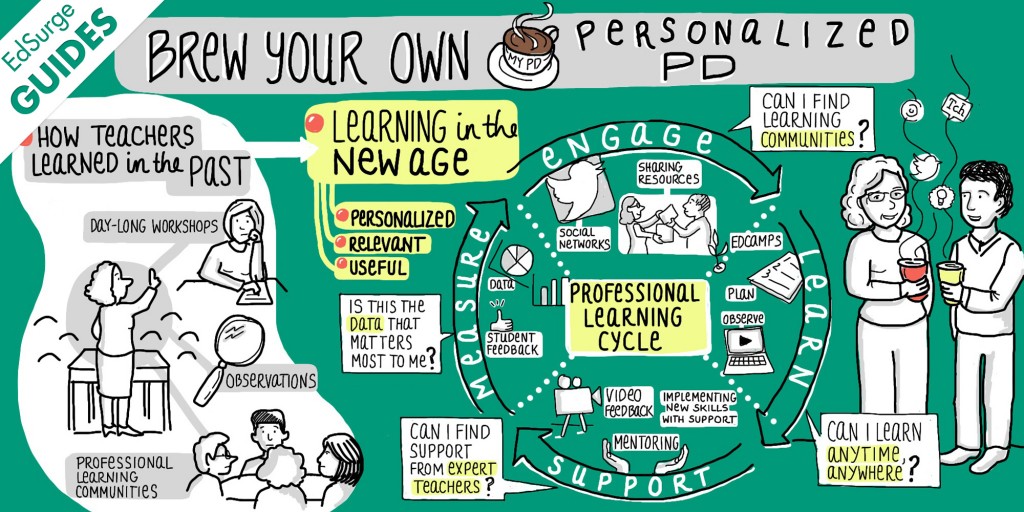 Comfortable with New Technology and Shows a Willingness to Explore – While relevant educators won't always be comfortable with new technology, they must be willing to step outside of their comfort zones to try new things. Sophocles stated, "Success is dependent on effort." Educators must model the willingness and put forth the effort so that their students will do the same. It's worth noting that we don't always need new technologies to explore. Sometimes we just need to try new techniques with existing technologies. In fact, a study released this month indicates that 6 out of 10 millennials lack technology skills. The author notes, "Using technology for social networking, surfing the web, or taking selfies is a far cry from using it to solve complex problems at work or at home." The report recommends that educators focus on the use of technology for real world problem solving skills. As educators, we must embrace technology so that we can teach this generation how to use it effectively.
May Put Creation Over Content And Relevance Over Doctrine – This last point reinforces the need for relevant and connected learners. The Washington Post published an article in January outlining the reasons students are not prepared for today's workforce. In the article, John Leutner, head of global learning at Xerox states, "People know how to take a course. But they need to learn how to learn." As educators, it is critical that we provide opportunities for students to create new knowledge on their own. We must let go of control and allow our students to explore, create, struggle, and learn how to learn!
This summer I encourage you to step outside of your comfort zone, let go of old practices, and try something new! Evaluate how you measure on the eight aspects of a relevant educator and strive to maintain relevance and foster relevance in your students.
YOUR CHALLENGE:
The first part of this challenge was to refer a friend. The second part of this challenge is to simply let us know who you referred!
Questions to Consider:
How are you using technology to learn and teach?
Have you considered using video for self reflection?
Do you have a personal learning plan with goals for personal growth?
What areas do you need the most help with? Can technology help to meet these needs?
Do you consider yourself to be comfortable with new technology and have a willingness to explore? If not, how can you change this?
Are you using technology for your own benefit or the benefit of your students?