Connect Your Classroom to the World
For centuries, schools have sat in silos. Teachers and students were capable of communicating only with those inside their own buildings. It was at one time not only unattainable, but unthinkable to collaborate and communicate with outside classrooms. The technology for these types of interactions had not yet been introduced to education—and even if they were, cost and practicality were barriers to implementation. I have been an active user of "video conferencing" since the early 90's, when this type of technology was usually seen in large businesses or colleges that were fortunate to have the funds to provide the equipment to make use of such a progressive form of communication. In 1999, before all the Skyping, Facetiming, and Google Hangouts, I began using CU-See-Me, a video conferencing tool, which many people have never even heard of. This was a time when a little ball of a webcam sat on top of your box-shaped monitor and you had to make sure not to move too quickly or your picture froze mid video conference. Fast forward 17 years and schools across the world have access to video conferencing through free tools such as Skype. Skype took video conferencing to a whole new level by providing educators with a platform and tools for classroom integration. Now Swivl offers a complete solution with the Swivl Robot, Swivl Capture App and
Swivl
Cloud Live
! One particularly fun way to connect and share ideas with other classrooms is using Swivl Cloud Live to play "Mystery Skype." Mystery Skype is an educational game invented by two teachers and it is played in two classrooms through video conferencing. The game engages every student in the classroom as students try to guess the location of the other classroom. They must search for clues and try and solve the mystery!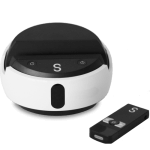 In order to play Mystery Skype, there are 3 steps:
Find a class
Arrange a time
Share your story!
Swivl provides a great way to facilitate Mystery Skype in classrooms. The Swivl Robot works with any tablet or smartphone. The Swivl Capture app is free and it controls the robot's settings. The Swivl Capture App and
Swivl Cloud Live
allow users to connect with other classrooms and record their Mystery Skype sessions! Not only that, but the marker controls the movement of the robot and has a built-in microphone to capture high quality audio. Multiple markers can even be used to capture more than one audio source.
How does it work?
By using
Swivl Cloud Live
on an ipad, classrooms are able virtually connect with other users. The remote classroom logs on using any device with a browser and the remote user can even steer the robot to "find" clues in the classroom! Swivl Cloud live takes the game of Mystery Skype to the next level. Mystery Skype can be fun and engaging for both teachers and students and is usually executed in one of three ways, or a combination of the three:
Twenty questions Recommended for beginners and younger age groups. Students in each class prepare a set of 20 questions and 5-10 clues for the other class before their call. The classes try to guess each other's location by answering the questions and using additional clues for a little extra help. This can work well for your first Mystery Skype lesson and is a good way to improve your students' knowledge of where they live.
Yes or no answers Recommended for more experienced classes. Classes are only allowed to ask each other questions with a yes or no answer. The number of questions may be limited to 20 if you want an additional challenge. These lessons can be more spontaneous and require students to think on their feet as the questions aren't prepared in advance.
Mystery Skype jobs Recommended for experienced classes. Some teachers have found that when students have specific responsibilities during a Mystery Skype lesson they work better as a team and the whole class becomes more engaged. These roles can include greeters, question keepers, Bing mappers, runners, bloggers, photographers, live tweeters, reporters, and anything else that works for your class (more information about these roles is available in this Google doc).
I have personally used and assisted with dozens of Mystery Skype sessions from PreK to 12th-grade classrooms. It is interesting to hear the questions that students come up with using their background geographical knowledge. As the students get older, the questions become more sophisticated to the point that research is needed during the session in order to accurately answer the yes or no questions. Teachers often ask me what happens after the initial Mystery Skype session is over. The great part about this form of communication is that the two classrooms can now be virtual buddies. Buddies can connect using weekly, monthly, or a few times a year and connect on curricular ties between the two classes. K-1 classrooms often maintain their buddy classrooms, meeting once a week during calendar time to discuss differences in weather. Swivl Cloud live is also a great way to keep absent or homebound students connected with classroom instruciton and activities. These innovative methods to knock down the walls of every classroom, bringing in various student experiences outside of the home and school. For more information and videos on Mystery Skype, visit my website
teachintechgal.com
.
YOUR CHALLENGE:
If you have been as busy as I have been this summer, you are still trying to catch up to the first few challenges! We totally understand and want to provide you with more time to experience the full Swivl experience. This week's challenge is an extension of Jordan's challenge last week! Scroll to the bottom of Jordan's post to find your assignment.