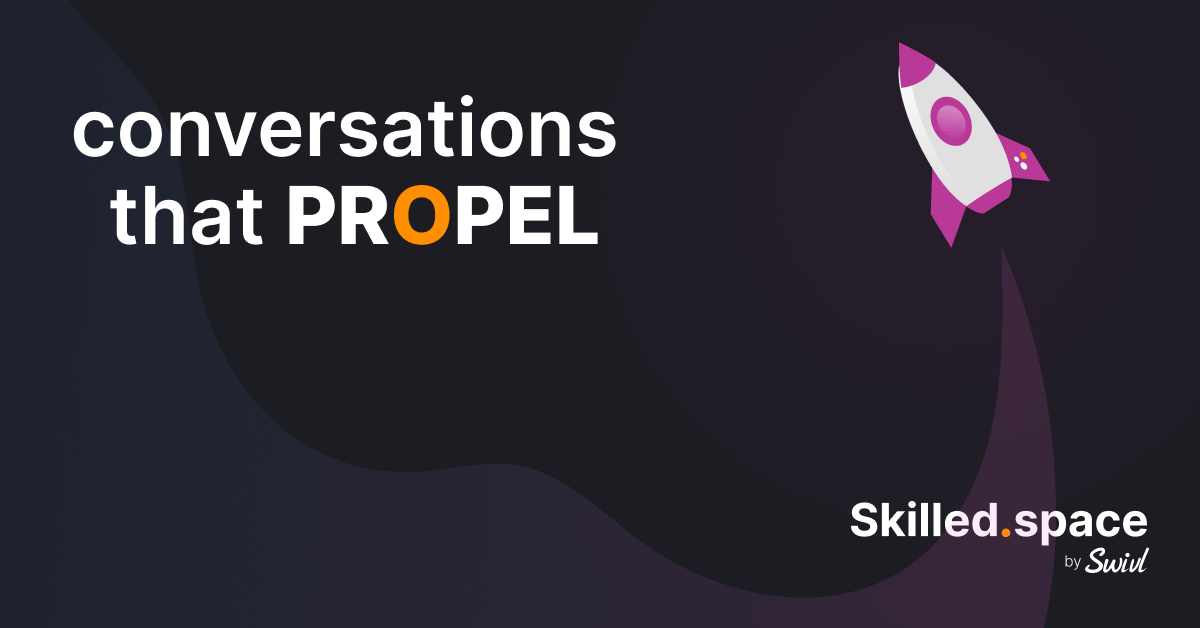 We Have Lift Off
Today we re-launch Skilled.space with a new focus: live conversation Spaces that propel your school forward.
Highlights of our re-launch
Private Spaces, where live audio conversations happen, only open to your closed network
Now FERPA & COPPA compliant to keep your schools and districts safe and secure
Easily schedule your school's Spaces so no one misses out on the conversation
Learning profiles you can customize to find more conversations of interest
Discover your community with a "Members" section
Skilled.space started a few months ago with the goal of filling the gaps left behind by 'sit-and-get' professional development methods. We've since realized that we needed to take a broader approach in order to affect momentous shifts within education. At Swivl, that started with a new company mission: To scale coaching in education. To get us there, we've broken down the challenges our new mission poses and came up with a framework called the Coaching Construct inspired by Maslow's Hierarchy of Needs. Those most basic needs, the foundations for personal and professional growth, such as feeling safe and having a sense of belonging are missing from those traditional PD sessions. Relationships can't be forced; trust must be earned. Enter the all new Skilled.space.
There's a Space For Everyone
Other platforms are dedicated to amplifying the voice of the few. We built Skilled.space in service of our commitment to a more inclusive culture that helps connect both educators and students in meaningful ways. It provides a safe atmosphere to encourage belonging and puts the participant on a path to personal and professional growth. Spaces are live audio conversations that invite spontaneous discovery of new ideas and approaches and help build community through shared interests and goals.

Building solid relationships with the help of Skilled.space is as easy as 3, 2, 1:
Start or join conversations in Spaces
Customize your profile with interests and aspirations to tailor your experience
Connect with others based on profiles that showcase skills, interests, and experiences
It's not about a lecture or presentation, in Space you guide the conversation and together, build a community with educators who share similar goals, and who desire to support and encourage one another.
A Learning Launchpad
While we're focused on the benefits of unstructured conversations, safety remains our priority. Skilled.space for Schools is a safe and secure space that is just for those within your school or district. We are FERPA & COPPA compliant and there is no need to worry if you'll be Zoombombed! Beyond safety, we've also made additional improvements to the platform.
Imagine your whole school or district connecting regularly. Teachers talking with colleagues about their skill development goals, students dropping into virtual teacher office hours, admins hosting town halls for parents to drop into.
Learn more about what live audio conversations can bring to your school here.
The new Skilled.space for Schools gives teachers, administrators, and students a safe space to reflect, connect, and then let their curiosity and skill development goals drive their learning. It creates an audio-only environment that allows conversations to happen anytime, anywhere. Skilled.space for Schools encourages everyone to build new relationships. It lays the groundwork for a culture of coachability.

Spaces: The New Frontier
We're on the precipice of a more connected world of schooling. Each day, on Skilled.space, we see people finding each other, initiating relationships, and exploring new ways of teaching—and this is just the beginning.
Skilled.space is where you'll find inspiration, get support, and have access to numerous sounding boards from across educational disciplines and around the world. On your own time, join great conversations based on education topics. Not finding a topic you want to join? Start your own Space and invite people to join you, including your own students. Magical things are sure to happen when educators connect in this way. In our early tests with teachers and coaches, there have been Spaces about AR/VR with kids, questioning the relevance of To Kill a Mockingbird in today's world, and Inquiry-Based science for remote learners, to name a few. Each Space leverages all the perks of unstructured conversations, bringing educators together in an engaging and interactive way, and planting seeds for continuing the conversation.
Universal Skilled.space will always be available to all education professionals, so make time to check in regularly to see what conversations are scheduled. The best part of Skilled.space is that you are in the Commander's seat. The more teachers, students, and administrators that join and explore Spaces to converse with others, grow their skills, and develop relationships, the more valuable your Space becomes.
Join or start a Space today for free and see for yourself what all the hype is about!