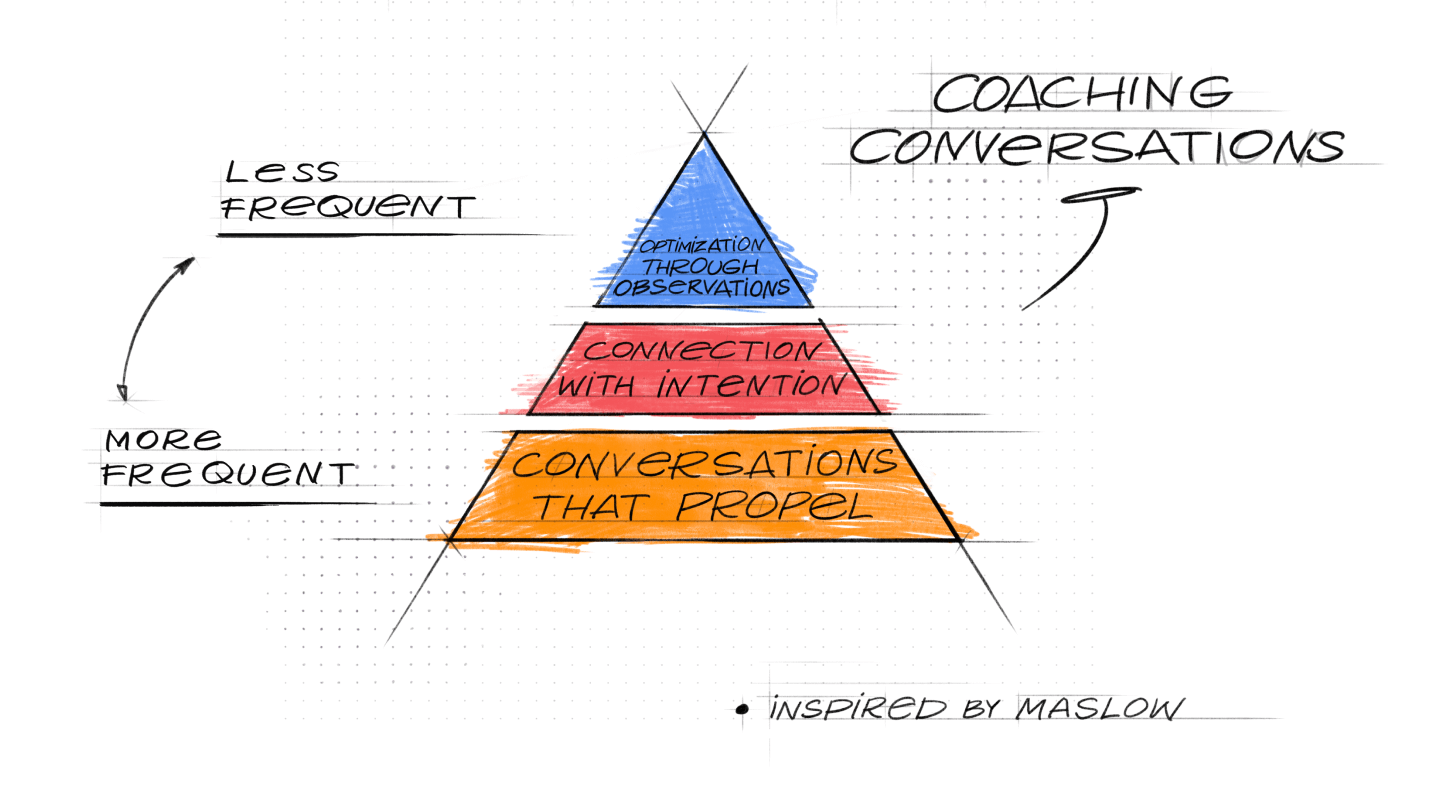 Coaching can be transformational. From our work with over 50K schools on their coaching initiatives, we've learned that it's time to change how it is practiced in order to realize this potential.
The Coaching Construct is what we've created as a result of a 10 year journey. It's a new framework inspired by Maslow's Hierarchy of Needs, that builds upon what we know works, and reinterprets what doesn't. It provides a positive pathway into coaching for students, teachers, and administrators. One that helps personalize their growth and development.
What We Know Works
At the most fundamental level, what makes coaching work is relationships. Successful coaching requires trust, vulnerability, flexibility, acceptance, and positive intent. And not just from those being coached. It requires substantial modeling by the coach, and it requires removing any power dynamic, establishing an authentic, personal connection, and embracing some of the same challenges with maturity.
This is why we define coaching as teaching through relationships.
We understand that this definition likely provokes some dissonance as you read it. Your mind might be saying, that's not coaching! Why doesn't it talk about goals or provide any structure? Where's the fancy acronym? Our intention isn't to provoke a conflict here. We recognize there are many effective and empowering methods to accomplish specific goals. Instead, our aim is to establish a broader, meta-definition of coaching. Something all the definitions and methods have in common.
What enables those fundamental relationships is conversations. Real, honest, focused, thought-provoking conversations. Voice conversations that allow for range and nuance that email and text messaging simply can't enable. Conversations that form new connections. Conversations to explore new ideas and topics. Conversations that strengthen existing relationships. Conversations that tackle hard problems.
Why? Conversations create forward motion. They take someone from inaction to action, from fixed thinking to fluid. They engage people's interests and ignite their agency. And these two things, when put together, can start to shift the culture of a school into new directions that make it more receptive to coaching as a method.
And a final piece that makes coaching effective, is restraint. Specifically, restraint for applying performance-oriented coaching. This often means observational coaching practices, but can be extended to any activity that leverages rubrics, grading, etc. This is where Maslow's Hierarchy helps to inform the way. You can't self-actualize until your other needs are taken care of. The best programs we've seen recognize this and take steps to build the right foundations.
What We've Reinterpreted
There is a range of coaching practices we've observed for coaching that hold schools back. Here's what we think needs to be re-interpreted:
Top Down Culture: Goals and coaches are organizationally provided, which naturally provokes anxiety, diminishes agency and sets the wrong cultural and mindset foundations.
Limited Frequency: The complexity of methods and the focus on observation/measurement of performance inhibits the frequency coaching occurs at. Coaching cannot happen once a semester and lead to progress.
Limited Connections: With only a few people acting as coaches, it limits the relationship capacity of the organization – and the needed trust and connection don't materialize to make coaching effective.
Fixed Definitions: By calling one or a few people "coaches", it prevents more people from getting drawn into the process. It denies the experience coaching others brings that inspires you to be better as a part of the process.
Omits Students: Students need relationship-driven teaching as much as anyone, but this act has been atomized into too many discrete things, and marginalized by transactional teaching approaches (lecturing, video games, adaptive learning, etc).
How It Works
The foundation of The Coaching Construct is built on conversations. Conversations that create motion, and start to shift culture and mindsets. They should be aimed at expanding the connections everyone has in a school, to create the potential for coaching to emerge more broadly, through the entire community. And they should be organized around everyone's interests, to foster agency.
These kinds of conversations should be happening every day and be accessible to broad swaths of teachers and students to set the foundation for everything else.
Then as positive connections emerge, it's about deepening them with intention. To bring the necessary sense of belonging and encouragement to a student or teachers day to day life. The kinds of connections that foster trust and vulnerability.
To create belonging, this must occur at the frequency that relationships occur in your life. Think of them like weekly calls with your friends and loved ones. To support it at the scale of an institution, this needs to be incredibly easy, fit into the cracks of time left in a busy day, and likely be asynchronous – since those cracks very rarely intersect.
And then, finally, you can proceed to performance-based coaching – the optimization step. Goals can be set once interests are understood and trusting relationships are established. Organizational goals can still be introduced, as long as it's appropriately modeled and explained through the relationship established in advance.
But this type of coaching should only happen infrequently, or specifically when difficult problems are encountered. No matter the relationship or cultural foundation, it still provokes anxiety, fear, and vulnerability. And these emotions are simply too powerful to be encountered more than once every few weeks.
The Coaching Construct isn't fixed, it's in motion. It is a constant cycle of starting at the bottom and pushing up the pyramid to maximize performance in new dimensions, with new connections. And through motion, transformation can be realized.
To facilitate the Construct, we are building our products specifically to address the needs of each level.
Over time, we'll also address how to navigate from one level to the next within each tool. Our goal is to make it as easy as possible to implement a Coaching Construct at your school.