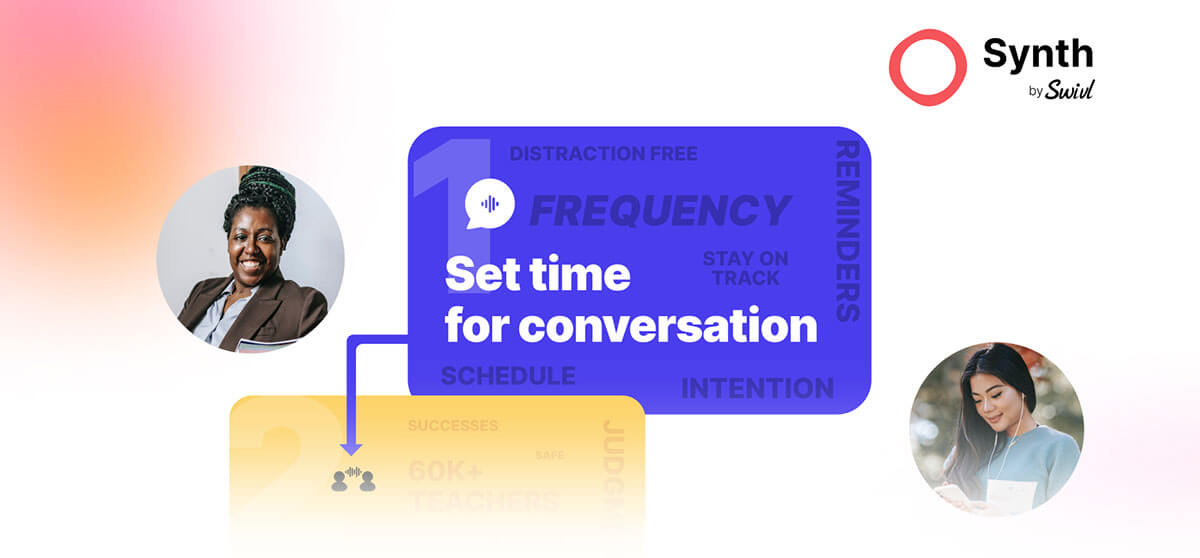 Note: This infographic compliments our May 4 webinar takeaways. It shows how to build better relationships within your school community. Download.
A community is only as strong as the relationships that bind it together.
On May 4, we held our first Synth webinar, "How to Develop Stronger Teacher-to-Teacher Connections" for the purpose of gathering educators to talk about how teachers connect with each other in their schools and throughout their networks. And more importantly, how can these connections become more meaningful? What unfolded with guest panelists, School Librarian, Allie Cornejo, and Instructional Technology Specialist, Don Strum, was a conversation about evaluating the quality of the relationships we have with other educators, and what tools allow us to authentically nurture them.
Allie Cornejo explained the details of how she approaches relationships with teachers in her school community. "I want to ask teachers, 'What have you wanted to do in your classroom that you have been hesitant to do?' And that kind of brainstorming can hopefully lead to fulfillment of your short-term goals. It can't be a fleeting conversation. So what can hold us all accountable? I love Synth because it's unobtrusive, can be moderated, and you can set the frequency of your intentions."
One valuable takeaway from this webinar was we learned that teachers know how important it is to connect with each other, but often don't know where or how to start. It can seem intimidating to think about approaching your colleagues in this way. But it's important to encourage the mindset that even beginning a conversation with just one other teacher can be transformational.
Wenndy Pray, a school librarian who attended, commented, "Sometimes connecting with one teacher will start a domino effect as they share their experience. So connecting with one teacher is powerful. Don't underestimate that."
Synth makes it easy to set time for conversation with other teachers. By starting a Channel, setting the frequency, and inviting participants, you are letting others know that there is always time to have deeper conversations about the topics that we want to discuss regularly – even if everyone's schedules make gathering difficult. This tool makes it easy to stay on track with goals, while also fostering connections over time.
Don shared that he loves how he can build on relationships in a meaningful way that fits into his daily life and keeps him connected to the teachers both in his district and in his external PLN. He explained, "Now, what my daily life is, as far as making connections with teachers, is that it really is about building relationships – over time. You wind up learning what teachers are willing to try or not willing to try." Don is excited about the prospect of introducing more teachers to the judgement-free platform that gives them the confidence to share their reflections and questions, knowing that they'll gain something valuable in return.
Allie agrees with Don,"Without the effort of having consistent, meaningful conversation with colleagues, you're not going to build the trust needed for good relationships." And that's why Synth is determined to make it easy. With an iOS app, and an intuitive web experience, in three clicks you can record responses to synths at any time and anywhere. Listen on your own schedule, connect when it makes sense for you, and soon you will be nurturing more trusting relationships in your school community.
Throughout this webinar, Don and Allie make it easy to get excited about the benefits of teachers listening and responding to one another consistently. They share the ways they have already been connecting in their own districts, and how the right tools can encourage teachers to dig deeper with each other, as well as with people they may not otherwise have contact with.
We ended the session by looking forward: "With summer approaching, how are you setting yourself up for success in preparation for the fall?" So we'll challenge you to also reflect on who you'd like to connect with more regularly next year, and how that might change the dynamic of your teaching and learning. We even have an app for that.
Missed the webinar? Watch the full session below.