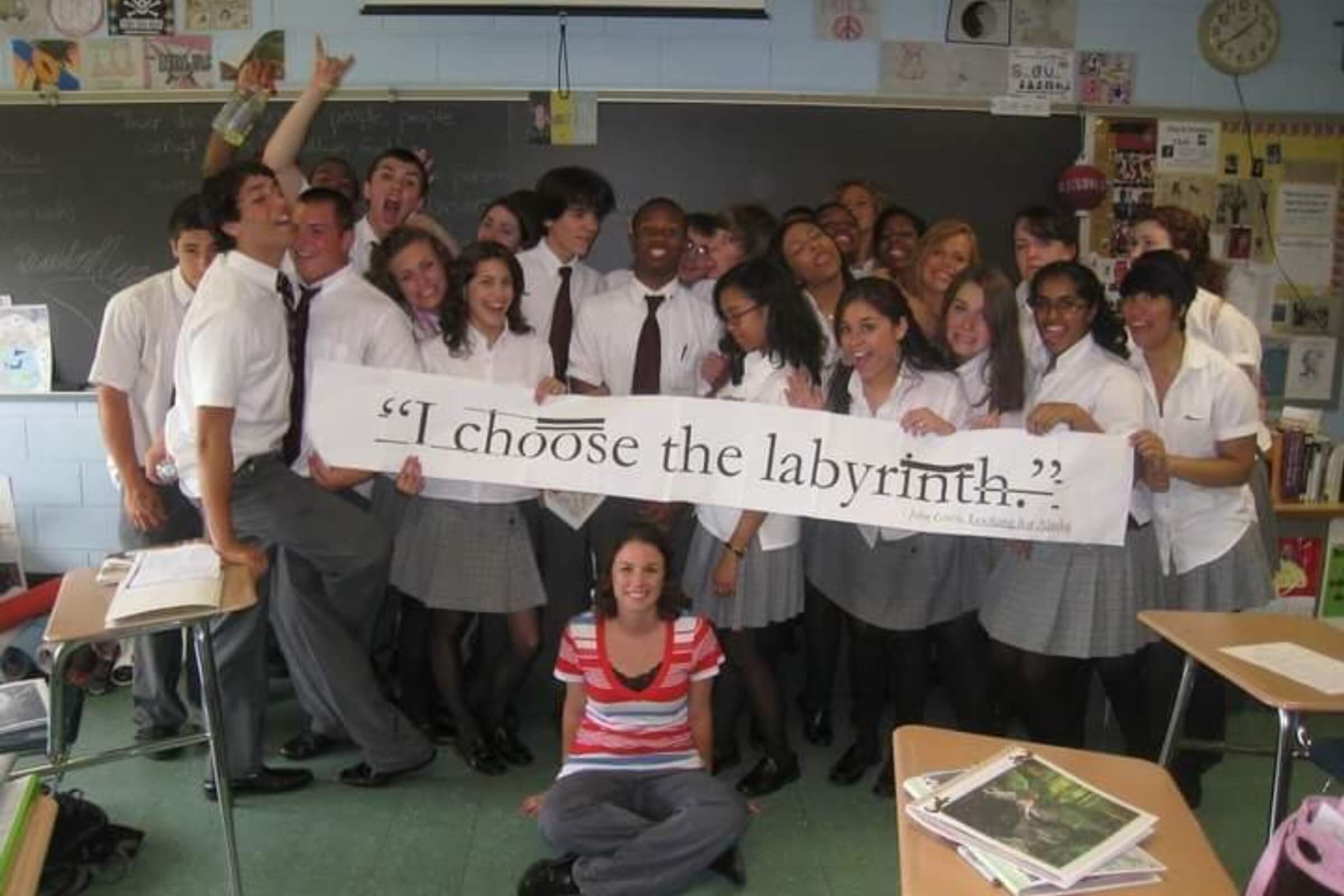 I taught high school literature and journalism in Long Island, NY for 14 years, and for much of that time I had the privilege of teaching an American Authors class, where students earned college credit for each semester. This quickly became my favorite course to teach – not only because of the depth of the subject matter, but because as a young teacher, it challenged me to experiment in ways that I was later able to adapt for other levels. For example, I wanted to have more meaningful conversations with my classes. As an introvert, I knew from my own high school experience that the classes I felt most comfortable in were those where the teacher didn't expect me to raise my hand ("Please, let me write something instead!"). But I also knew that regular conversation was the only way to create an environment where students could flourish.
I wanted a way for them to engage in thoughtful discussion without the anxiety or discouragement that comes from having to put themselves on the spot in class.
For a long time, my desire for this dynamic would lead to short in-class writing prompts or exit ticket-type questions that would let all students participate equally—no actual discussion required. I truly just wanted to hear what they thought. Eventually, I would have them anonymously respond on an index card, and then pass them to another student, and so on, and we would essentially create a "conversation" without ever talking.
Obviously, there was a disconnect. Asking students to write puts them in evaluation mode, causing them to overthink it. And more importantly: students weren't actually talking to each other. I wanted to build enough trust between classmates that we could have free flowing discussions that encouraged engagement with a text, and allowed us to build connections across the class. Passing index cards back and forth was not going to accomplish this.
How could I make the simple act of conversation with peers a meaningful activity with limited barriers to entry?
My solution was to set up weekly topics on a discussion board on our school's LMS. At the time, I don't think many people knew it existed in the system, and I even had to inquire about turning the feature on. Once I did, this great experiment quickly became a lesson in teaching through relationships.
Relationships create shared experiences & engaged learning
Stacey Goodman wrote about the concept of teaching through relationships in 2015 when he was reflecting on his own missed opportunities as a student, and how to approach it as a teacher now himself. He says that "[Teaching through relationships] describes the complex social environment in which students and teachers converse, share experiences, and participate in activities that, together, make for engaged learning." I didn't know this yet, but what would unfold was a way for students to participate in formative assessments that also doubled as a way to build our relationships with each other as members of a class. And it's this second part that really mattered.
So how did this happen?
I posted a single question on a Monday afternoon that asked students in three separate classes to argue for or against a decision that a character made in the novel we were reading. I gave them the entire week to reply to the question and then respond to another student. I set the timer to freeze the board at midnight the following Sunday. This gave them plenty of freedom to think and respond at their own pace. I thought, I'll just check throughout the week to make sure that it's working, respond to anything I need to engage with, and then on Sunday night I'll log on and look at the results. Sunday came, and I was struck by the dearth of participation.
That evening I kept my computer open and went about lesson planning for the next week, refreshing the page every ten minutes or so. As it turned out – and because we are talking about teenagers – most students saved the assignment until the last day, even a few hours before the deadline. When the clock hit 9pm, the message board came alive. It seemed that 75% of my students waited until this moment to log in, and they had no idea that I would be there, too. I replied to a few answers as they came in.
"Omg, Ms. Candela, are you there?"
"Yes, I'm here. :)"
"Ahhh that's so weird! Did you read my last response? Was I right?"
Yes, it was weird. But it struck the same chord in me as when someone would raise their hand in class and tell me they thought Gatsby reminded them of their grandfather and proceed to explain the details of the American immigration system. I dropped everything else I was doing and for a couple of hours on a Sunday evening, I waited eagerly for new answers to emerge, and watched as we all responded to each other in real time.
And without even planning for it, I realized that students wind up putting more focused attention into an assignment when it generates quick feedback and genuine rewards in the form of authentic connection with their teacher and peers. This back-and-forth created empathy, and all I did was talk to them, tell some jokes, and put a checkmark next to their name in my gradebook.
What I learned is that authentic student engagement depends on their sense of belonging: where do I fit in here? Why do I care about this? We don't feel like we belong to something unless we can define a positive relationship to it. In school that Monday, if you hadn't been on the discussion board talking about character development the night before, you had no idea what people were talking about. "Ms. Candela, is there a discussion board this week?" became a normal query, and the most-requested assignment type in my class because it connected us all to a central purpose, and to each other.
Text Based Solutions vs. The Power of Voice
Now, my original experiment only turned into live discussion because my students grew to trust that if they showed up, I would talk to them. I unwittingly created an environment where students could be themselves, and now Skilled.space expands that opportunity with audio-only conversation. If I think back to when I was wracking my brain with what to do, the number one issue was that my students didn't want to talk freely in front of one another. That doesn't necessarily mean that they don't have anything to say. This is not a new problem in the high school classroom. But I couldn't let their fear stand in the way of an activity I knew was essential to building a class motivated by the ideas of those around them.
I lacked the tools to replicate the power of voice, and so I settled for frenzied text-based discussion only fueled by my willingness to give in to the late-night habits of a group of teenagers. I was powerless to their enthusiasm. But not every teacher would have agreed to that project and all the messiness it brought with it. To be honest, I'm not sure I even would today. What I really needed was an audio alternative to online group collaboration and discussion. A flexible platform that allows a teacher to safely monitor or guide what students are discussing, while using that discussion to propel growth.
Ultimately, the goal of both exercises – the one I conducted on a discussion board, and holding conversations in Skilled.space – is to help students to develop maturity, focus attention, and discover their interests.
In my own classes, I saw more of a willingness to participate inside the classroom because students would bring up points from the week's online forum. This is way more authentic than anything I could have achieved without serendipitous communication.
And the benefit? Relationships are fostered and formed through meaningful conversation, laying the foundation for even deeper learning.