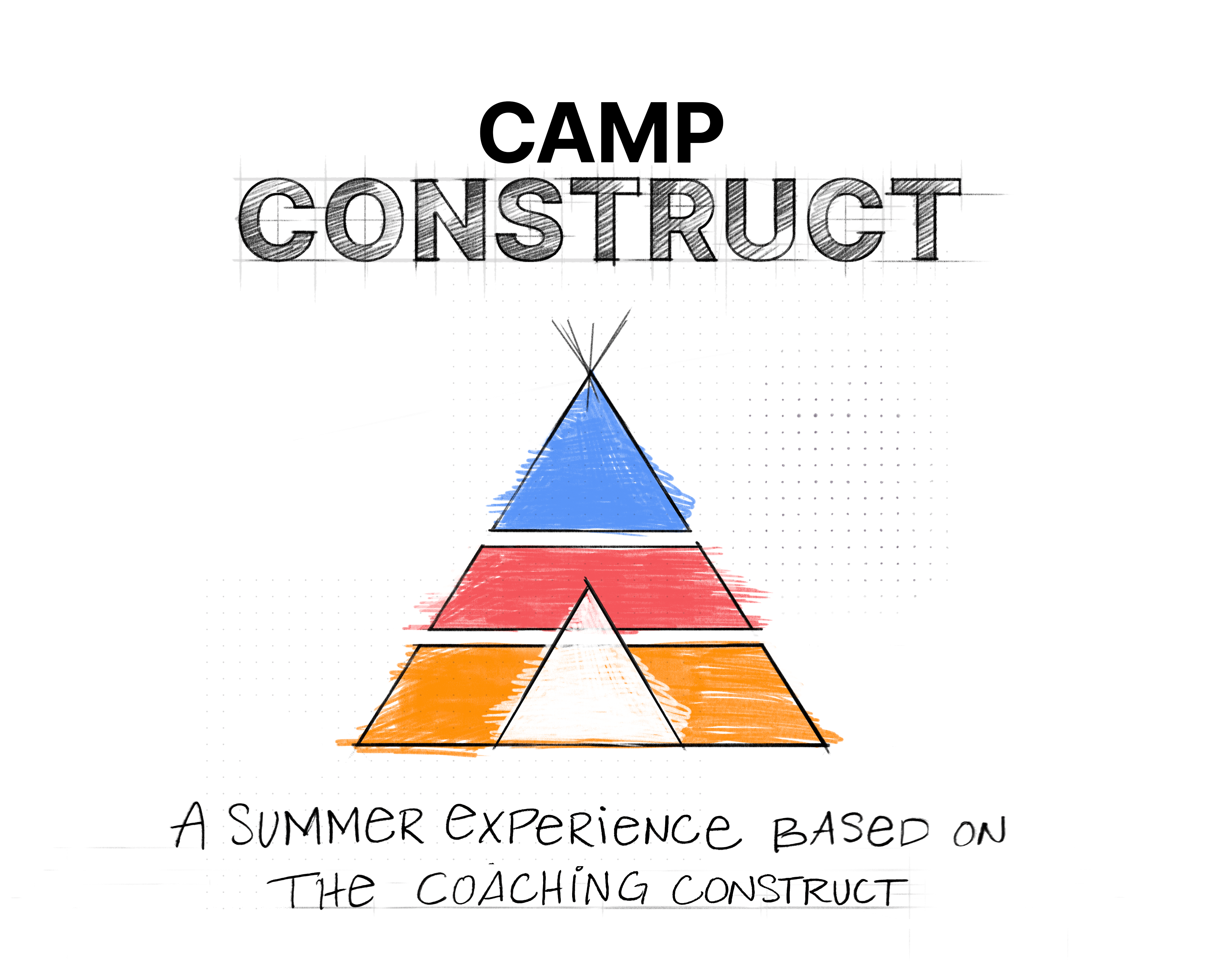 Reflections from Camp Construct Counselors LaTonya Williams and Erin Kiger
In the summer of 2021, we brought together 25 educators for six weeks. We called it Camp Construct. Camp Construct was created for educators with varying titles, from different locations, and in different places in life to put The Coaching Construct into practice. Our goal was to empower these educators to make an immediate impact on cultivating strong, trusting relationships within their schools and districts by implementing The Coaching Construct.
Most summer camp counselors will tell you that what they learned from camp participants far outweighs what they taught them. We feel the same way. Especially when it comes to learning that relationships are the foundation of The Coaching Construct and education.
A quick note before we get started—we'll be referring to Camp Construct participants as "campers" throughout this post.
Building Relationships at Camp Construct
When it comes to relationships, it's important to remember two things. First, you cannot force them. Second, strong, trusting relationships take time to build.
At camp, there were instant connections, there were connections that formed at the end of camp, and not all campers connected with each other. But most importantly, every camper respected one another.
How were we able to help foster an environment of respect throughout camp? As we began to design the camp experience we held the belief that each camper is a dynamic, creative, and interesting human. That each camper would have insights and skills that every participant could benefit from.
Then, throughout camp we relied on six strategies outlined below. These actions are incredibly powerful when there is a need to make coaching and feedback feel natural and supportive. They help educators (both new and experienced) feel included and cared for. They're what help move educators through The Coaching Construct, and make space for learning and growing.
The best part about these six strategies is that they are actions anyone can take to build strong, trusting relationships with others—especially in educational settings.
Assume positive intent. We let the campers decide how they wanted to show up to camp. They could be an active participant, or quietly observe what was happening. They could complete the weekly Camp Construct activity, or not. They could attend each camp meeting or not. However they chose to show up during Camp Construct, we assumed they were doing their absolute best. We also regularly reminded them that our purpose as camp counselors was to support them throughout their camp experience.
Coffee talk. The first few weeks of camp were spent having casual conversations with one another. We connected on things outside of education. Conversations about summer vacations, coffee, and our families helped us to find common areas of interest. Once we were able to find common areas of interest, our conversations shifted to talking about our experiences within schools, classrooms, and with colleagues and students.
Meet them where they're at. For those who were hesitant to connect with others, even during times of casual conversation, we took the time to understand where the hesitation was coming from. Most campers who were hesitant to connect had past experiences with a coach, admin, or teacher that made them wary and suspicious of connecting. Which was okay! Once we were able to identify it, we had conversations about it and worked through the wariness together so they could connect with other campers and accomplish their camp goals.
Think and respond. Whenever we asked a question, we left space for them to think about how they would respond. We also did not pressure them to share a response. Sometimes after asking a question there would be several minutes of silence, which was a signal for us to move to the next topic. Other times campers would build off one another and time would fly by.
Supporting statements. When a camper would respond to a question, or share an experience, we would find value in what they were saying. For example, if someone shared an experience, we would say, "Thank you for sharing. That's a great example of (fill in the blank)." Modeling this for the campers helped them see there weren't any right or wrong answers to the questions we were asking. It helped them to show up and participate authentically. A few weeks into camp, campers began using supporting statements with each other, which signaled to us that they were beginning to trust each other and learn from one another.
The Lone Nut and First Follower. We knew that there would be times during camp where we would have to stand alone and look ridiculous in order to model to campers how to move through The Coaching Construct. This is called being a Lone Nut. Through modeling the behavior we wanted campers to take, it made it easy for campers to follow our lead. While we took on the role of Lone Nut, various campers assumed the role of First Follower. These First Followers helped other campers see that it was safe to let their guard down and follow our lead. Watch this YouTube video for an in-depth explanation of Lone Nuts and First Followers.
Vulnerability is Key
Building off the Lone Nut and First Follower strategy, we knew that in order for campers to build strong, trusting relationships with each other it wasn't enough for them to solely show up to camp, or to complete camp activities, or to only talk about themselves. There needed to be an exchange between camp participants.
Each camper needed to be willing to be vulnerable. This meant they needed to share their experiences with the group. Campers needed to talk about past or current struggles and successes, personally and professionally.
We learned three important things about vulnerability during camp:
When campers understood and felt that their voice matters, they were more willing to be vulnerable.
When campers felt like they would gain something either personally or professionally by being vulnerable, it was easier for them to share their experiences.
When campers were hesitant to connect with us, it was a signal to us that we needed to be vulnerable first.
In order to measure how comfortable the group was with being vulnerable, we asked them about their Camp Construct goals. At the beginning of camp, their goals were strictly professional. The goals could be sorted into one of two categories: (1) to learn how to build better relationships with teachers, and (2) to learn how to make lessons more meaningful for students. These professional goals were an indicator to us that campers felt the need to show up as "educators" instead of showing up as their authentic selves.
Asking questions and modeling vulnerability gave campers permission to show up as themselves. It also helped each participant to be present. It shifted their focus from completing camp activities to being immersed in the experience, gaining valuable insights into human behavior that allowed them to better understand how teachers and students feel during "coaching." We were also able to identify the campers who were more open to being vulnerable from the beginning. These campers helped us to create an inclusive and accepting environment for everyone.
Relationships are the Foundation
We hope that as you have read through our Camp Construct experience that it has sparked ideas on how you can strengthen relationships with those you coach and work with. Through small, repeated actions and conversations, you can build strong, trusting relationships with students, colleagues, administrators, and families.
When a strong, trusting relationship is present, you'll be able to get more work done, and the results will be more visible. It creates space for people to grow together to become better educators and people.
The bottom line: relationships are the foundation.