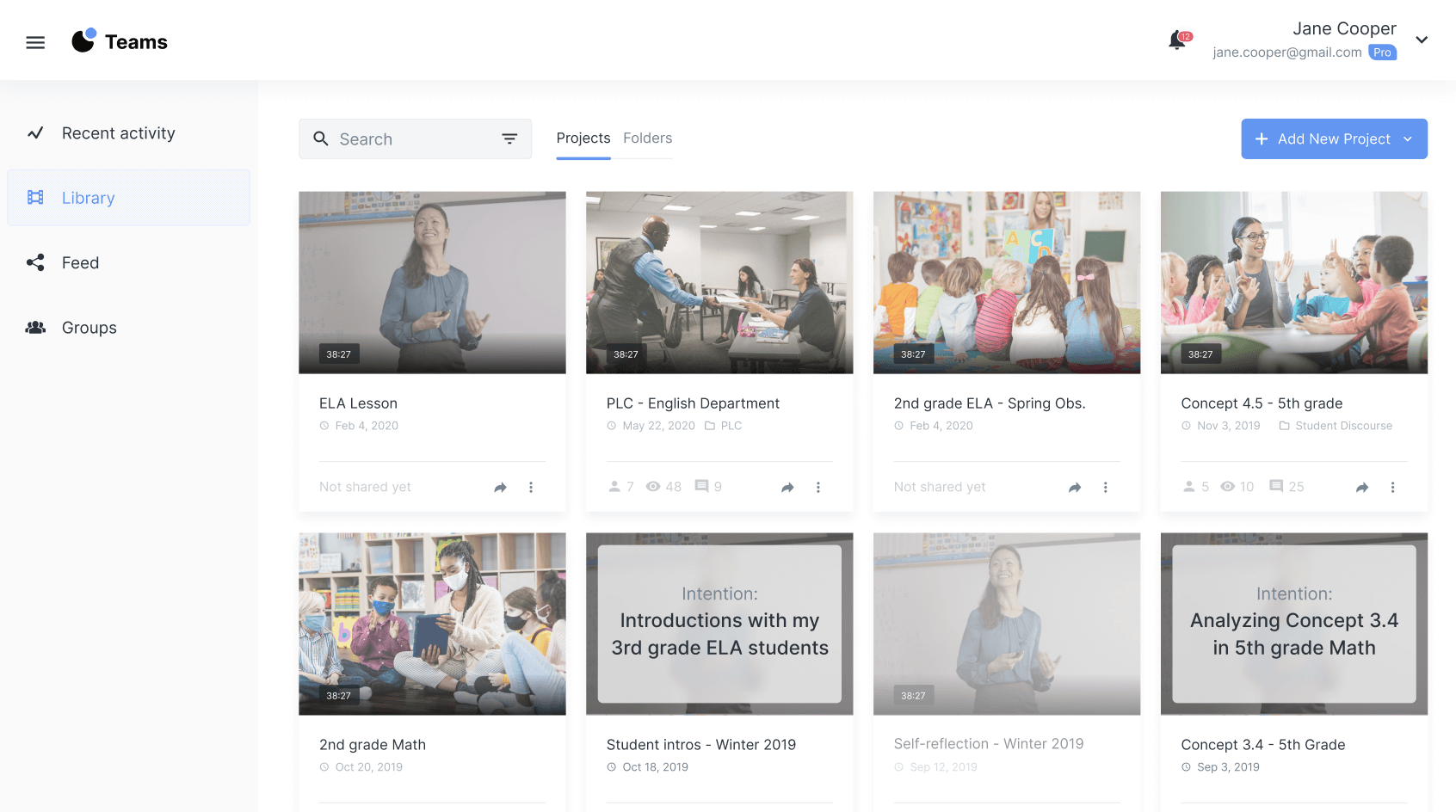 Feedback is essential for video coaching
Last month, Swivl made it easier than ever to give feedback in video observations with the latest Teams by Swivl release—Sessions. A Session is a four-step process that keeps the conversation around videos organized, clear, and actionable.
Start with setting an Intention. This helps you define your "look-fors" for yourself and for your feedback partners.
Annotate your Feedback with Time-Stamped Commenting, Bookmarks, and Prompts to analyze the evidence in the video.
Provide a Summary that takes into account the entire video experience, reflecting on whether the Intention was met, and where to go from here.
Share your Session with your feedback partner (e.g. a coach, peer, PLC, or mentor).
6 Ways to Use Sessions Beyond Traditional Video Coaching
Since its release, Sessions has been used in a variety of ways. Today we're walking through 6 ways teachers across the country are using Sessions with their Coach, peers, PLC, students, and more.
1. Self-reflection
Watching yourself on video and engaging in a self-reflection practice can be intimidating! It takes practice, patience, and a willingness to move past those initial feelings of discomfort. For Teams by Swivl, we've worked alongside educators to design Sessions. We created a tool that helps educators take control of the self-reflection process. We've made it easy to use an existing video, or record a new video to begin a Session. Then using the same Feedback tools you're used to applying on your videos in Teams, you can track glows and grows, and easily track progress overtime.
2. 1:1 video coaching
Sessions adds a new level of clarity and organization to Teams by Swivl. Sessions helps educators and their coaches go beyond the traditional coaching practice of identifying, learning, and improving.
Setting an Intention helps to facilitate pre-conversations between educators and their coaches. Pre-conversations help educators select a focus for their recording. It also creates an opportunity to build a connection with their coaches. When there is a strong, trusting relationship between an educator and coach, it creates the opportunity for more learning. Feedback and self-reflection becomes more natural, and educators become more willing to highlight areas where they are excelling, instead of solely focusing on areas of improvement.
3. Sharing exemplars or best practices
Educators are often working toward improving something within their teaching practice—student engagement, giving feedback to students, increasing student talk time, teaching a specific concept. It can feel like such an accomplishment when you've provided feedback in a way that empowers a student. Or, created an environment where introverted students feel comfortable enough to participate in class. Or, when you've taught a concept in a way that the majority of your class has a solid understanding after the first lesson. Sharing and celebrating these successes with your peers, PLC, coach, and feedback partners goes a long way in building relationships with them.
Also, if you need support while you are working on improving something in your teaching practice, a great place to start is by asking peers, your PLC, or your coach to share a recording of their successes and best practices. Having a visual of their strategy or approach may help you to improve your own practice.
4. Collaborating with your PLC
If you have a PLC, consider creating a Group with them inside the Teams by Swivl web platform. PLCs can collaborate on their Group's purpose together by setting a description which can help each member stay focused and aligned on the purpose of sharing video content with one another.
Similar to #3 above, your PLC provides a supportive community to celebrate wins, provide feedback, and brainstorm ways to help you improve each other's teaching practices. Recording, sharing, and providing feedback on videos with your PLC is also great practice. It can help make recording and sharing video and receiving feedback from a coach, peers, and administrators less time consuming and cumbersome.
5. Tracking student learning
At the beginning of a school year or of a new semester, ask your students to complete a Teams by Swivl Session. Have each student set their Intention for the course. Have them answer the question, "What do you hope to learn during this school year?"
Throughout the course have the students complete assignments via video. At the end of the course, have students revisit their intention. Using short clips from each of their video assignments, have students use the Teams by Swivl platform to Merge clips together to demonstrate what they have learned.
In the Summary section of their Session, have the students complete a self-reflection on the course. Did their intention change over time? What did they learn during the course? What did they learn about themselves and their interests?
Teachers can participate in the students' learning by using the Feedback feature of Sessions.
6. Student presentations
To help students become more self-reflective and improve their presentation skills, invite students to record themselves giving a presentation. Using the five-step Sessions process, students can:
Describe their goal for the presentation in the Intention section
Identify the parts of their presentation that supported their goal, or needs improvement in the Feedback section
Detail what they could do better for their next presentation in the Summary section
Share the Session with their teacher, which allows teachers to add Rubrics and Summarization to the project
Engage in asynchronous conversation with their teacher in the Feedback section
Try Sessions Today
Click the button below to log in to your Teams account (or to create a FREE account) and try Sessions today.