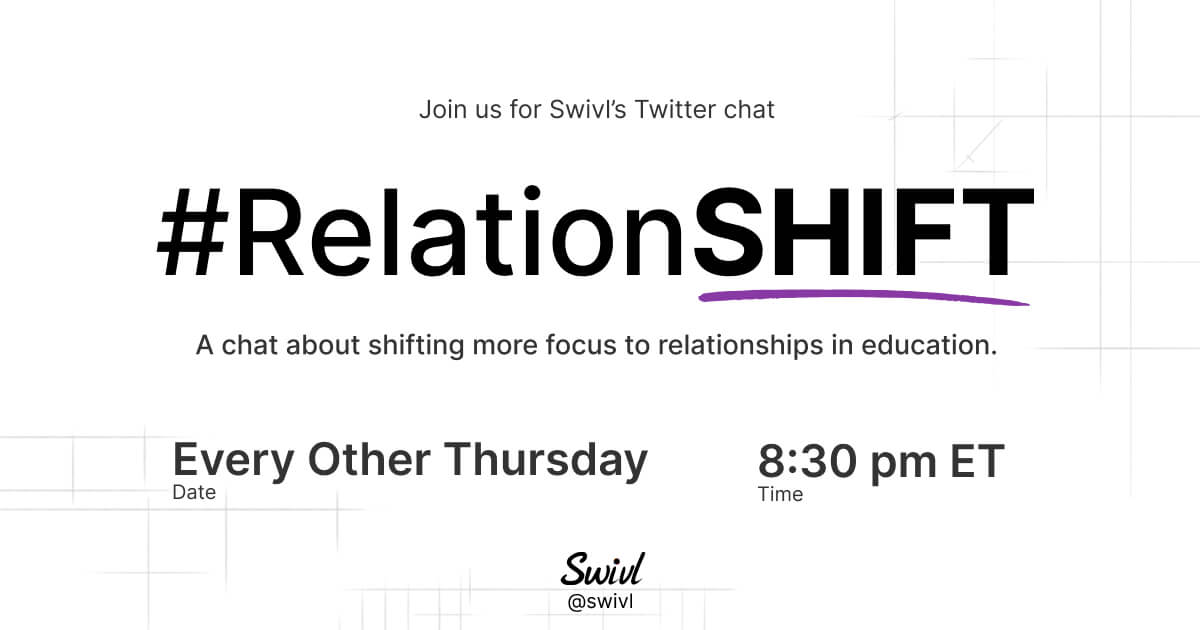 "Without relationships, meaningful learning will not exist." @DrJacieMaslyk
#RelationSHIFT is a new edchat on Twitter about shifting more focus to relationships in education. We all felt the loss of connections over the last year and a half, so it's more obvious than ever how important these foundations are in schools. Kim Gries wrote in EdSurge recently that we have to "slow down, get to know one another, and build a community that cares for each other." There is true value in slowing down and connecting with others, and who better than our Twitter PLN to begin this important conversation?
This was the most positively energetic and fast-paced Twitter chat I have been a part of. I followed along as best as I could as responses and comments poured in. I even spent an hour after the chat slowly going back through all of what was said. As the guest host for the first night of the chat, I chose the topic Strategies for Building School Communities. Our questions focused on identifying the importance of relationships, stories about these connections with students, and strategies for building relationships with families and colleagues.
Educators from around the world joined in to share, collaborate, and connect. Some discussed the importance of trusting and authentic relationships. And others highlighted the value of community and cultivating it with all stakeholders in education. Fellow chatter, @EBGtech, explained that "The human element doesn't change regardless of your title…we all just want to feel heard, understood, appreciated."
We heard inspiring stories about how educators have encountered and built authentic relationships with students. We also explored how it is key to foster this trust with colleagues and families. Stellar strategies were offered, including:
"With families, I try to reach out with positive news. I find it helps to establish a relationship and show that I'm paying attention. With colleagues, I just try to find common ground and build from there." (@swissarmymom02)
"The word community implies relationships. We cannot be in the process of equity (getting folks what they need) without knowing them—relationships. And it's more than academics! It's food security, health access, belonging, literacy, sustainability, and more." (@JustTeachingELA)
As I was reading the comments and reflecting afterward, I also gained new clarity on the importance of relationships within our PLN connections. In just a short 30 minutes, we were able to illuminate our perspectives on relationships within our individual school communities. But the power of this chat also came from our connections with each other. It takes trust in each other to be comfortable sharing in public; this created such a special way not only to learn but to share our voices and be appreciated.
I left this conversation filled with so much positive energy due to these connections – it has honestly fueled me in certain teaching moments already. I am more likely to take a step back to maintain my focus on the relationship part of the situation. #RelationSHIFT is now pinned in my calendar for every other Thursday at 8:30 pm ET. There was so much power in the short time we all spent together – it was a truly magical feeling of community!
---
This guest blog post was written by Brandon Perry (@blperry3).
This chat was filled with powerful messages, strategies, and ideas. The great news is you can check out everything from our chat here. And be sure to look at the coolest graphic below that covers some highlights from the conversation. Even better, you can join or follow along with our next chat on Thursday, September 16th (@swivl). You can use the #RelationSHIFT hashtag to follow along. The chat begins at 8:30 pm ET with introductions. Then, we post our three questions over the course of the 30-minute chat for you to respond to and engage with the responses of other participants. It's a great way to network and expand our focus within education by hearing other perspectives while gaining insight into what others are doing.