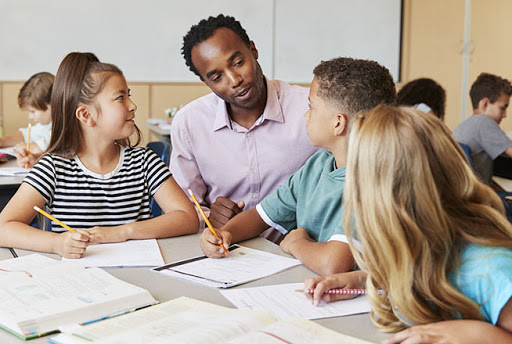 Synth helps educators connect with intention through asynchronous, audio-only conversations.
Teachers know 1:1 and small group conversations are a fundamental part of the learning process. These moments build relationships, help teachers and students make connections, and allow for personalized feedback.
But an ever-growing list of demands means most teachers don't have as much time as they need for these moments.
Synth fixes this problem by making it easy for teachers to connect with students anytime, anywhere in a convenient and natural way. Watch this short explainer video to see Synth in action:
Now, you're not limited to the school day or class period. You don't need to stay after school or answer emails at night to connect with students. Of course you still can, but Synth gives you another option.
Intentional conversations, either 1:1 or in small groups, can become a regular part of your day without feeling like another thing on your plate.
With any new tool or resource for the classroom, one of the most common questions is, "how exactly am I going to use this?" 
Below, explore 9 ways Synth can help you build stronger connections with and among students. Then, pick one way to try first, and start using Synth today.
Synth is a place for fun, flexible and reflective assessments
Good teachers assess their students frequently to gauge the effectiveness of their lessons, measure individual student progress, and gather important data about the whole class.
But it's frustrating when all of the time spent assessing students takes away from time supporting students. 
One answer to this challenge is Synth's asynchronous audio features. On any device, teachers can pose a question or prompt to students just by talking. Students have a fast and convenient way to respond, also on whatever device they are using.
Here are a few ways Synth can support your assessment process:
Audio Exit Tickets
Exit tickets are a quick and engaging way to figure out what students have taken away from the day's lesson. They also provide a smooth and natural closing routine for the end of class. 
To use Synth for audio exit tickets, first create a Channel for your whole class. Record a question or prompt as a Synth based on that day's lesson for students to respond to in threads. You can listen on your time and respond to students who need extra guidance or direction before tomorrow's lesson.
Goal Setting and Reflection
Metacognition is essential to learning. Give students the chance to synthesize (or Synth-esize 😉) their thoughts with ideas they hear from others. This helps to cement new understandings. 
Setting a goal allows for students to work towards achieving that goal and teachers to coach along the way.  Synth makes this more convenient than ever because students can share their ideas in a fast, fluid way by talking out loud. Teachers and students can make connections and challenge biases, expanding views and ideas. 
Consider a short mini-lesson on how to reflect or how and why to set goals before moving over to Synth. 
Share Thinking and Process
As anyone who has taken math class remembers, showing your work is as important as getting the right answer. Have students use Synth to explain their work with links to external documents and other supporting materials to build this essential skill.
In my experience, Synth has helped guide students' thoughts and hone their purpose for sharing. As an educator, observing how students master the art of creating a main idea is groundbreaking. Synth provides that avenue.

Wendy Pray, MLS, Educator & Librarian
For example, students can use Synth to narrate their process of:
Writing an essay
Coding an app
Conducting an experiment
Solving a multi-step math problem
Researching a topic or question
Creating a piece of artwork
You can continue the conversation by listening to students' responses on any device, including your mobile phone, and responding to students' thoughts with feedback or a follow-up question in a thread.
Synth is a place for engaging learning activities
Asynchronous audio is a fresh way for students to work through new ideas, hold academic conversations, and respond to academic content.
While whole-class discussions and speaking in front of the class are essential skills to learn and practice, they can be intimidating for many students. Concerns about speaking to a large group can take students' attention away from the skills and content they are trying to grapple with. And classroom connections may be hindered when not all students get to participate or practice as much as they'd like or need to.
With Synth, teachers know that all students are getting the practice they need, and can have as much conversation as they'd like. This is because the interaction is not limited to one class period or one moment in front of the group, but it can happen anytime, anywhere.
Language Practice
Every student can relate to sitting in class and thinking, Wait! What was that? I missed what the teacher said. This is even more common in language classes.
Teachers can use Synth to model skills for students to playback repeatedly. The ability to hear proper pronunciations, repeat them, and listen to yourself can rapidly develop new language skills. Students can respond to the teacher in easy-to-listen threads to demonstrate their mastery.  
Plus with Channel privacy, students can practice free from judgment until they get it right.
#AppSmashing
Each individual Synth can be linked to other materials, apps, and experiences. Up to 10 at a time!  Introduce new units, describe and model exercises, and provide instructions for the use of other apps like Edpuzzle, Padlet, Quizlet, Seesaw, Nearpod, and Wakelet.  
This facilitates several practices known to support student engagement and learning, including offering students choice, presenting material in multiple formats, and giving students feelings of autonomy.
Student-Student Interviews
Strengthen relationships in a class by having students interview each other or the teacher. This can be a unique way to begin the year. Follow these directions:
First, this lesson will work best if teachers can model the process of conducting an interview and responding to interview questions. Modeling openness and willingness to share will help build stronger relationships.
Students form pairs. This can be your choice or theirs, depending on the age of the students and dynamics of the class.
Ask students to brainstorm a list of questions they could ask a classmate to get to know them better.
Share these questions as a whole class and compile a master list of interview questions on the board. Ask students to select 4-5 questions they want to ask their partner.
Then, students can use Synth to interview their classmates. Students could make one long recording for their whole interview. Or, students could post their questions one by one, and their partner can respond to each of them individually.
Optional: a little instruction on the basics of interviewing can go a long way. Consider these resources on reporting and interviewing.
The stories, experiences, and questions students share will help foster connections and form a sense of belonging among students and with their teacher.
Book Talks
Engage readers to learn and listen in new ways. Foster active listening skills, allowing students to ask questions and reflect on a reading selection. With Book Talks, students can also be challenged to dive into new genres or investigate new topics they want to explore; this expands the students' world view.
One challenge of book talks is they are often quick and informal, which can pose a challenge to students who lack confidence speaking in front of the class. With Synth, these students can record their book talk at their own pace, then share it with the class. This can build students' confidence and speaking skills that can transfer over to other speaking tasks.
Use this big list of book talk and book trailer resources to help you get started.
Synth is a place for new lines of communication
Teacher-parent communication is powerful but time consuming. It becomes even more difficult when teachers and parents both have busy schedules and need to find a time to connect.
However, the impact of frequent teacher-parent communication is big.
A 2012 study conducted by the Harvard Graduate School of Education found that frequent teacher-parent communication "increased the odds that students completed their homework by 40%, decreased instances in which teachers had to redirect students' attention to the task at hand by 25%, and increased class participation rates by 15%."
When both teachers and parents can send and receive communication anytime, anywhere, creating an open dialogue is much more manageable, and even enjoyable, for both parties.
Conferences
Each school has their own policy about teacher-parent communication, and we are not suggesting that you throw out the face to face or phone conversations that may be part of your district. However, Synth can make it easier for teachers and parents to conduct short informal conferences throughout the year. These conversations can create ongoing dialogue about student progress.
Teachers can also conduct student-teacher conferences on Synth. Open up a feedback conversation with students. Allow students to give teachers feedback and vice versa.  With specific and timely feedback, connections can be fostered and confidence boosted. These conversations also give opportunities for teachers to provide strategies needed to develop or advance new skills.  
Audio Newsletters
Parents are in the car, waiting online, sitting at practice, and taking a break during the work day. During all of these moments, they may prefer to listen to a short audio recording instead of skimming through a long email or PDF. This is the beauty of using Synth for parent audio newsletters.
Teachers can use audio newsletters to highlight successes of students. This can open up a conversation at home that allows students to become the expert in an area where they have succeeded. Students can also create audio newsletter recordings and share them with schoolmates, parents, and community members based on permissions.
Synth is where you connect with intention
Asynchronous audio has not typically been a medium of communication in most classrooms. But it opens up the possibility to connect, have conversations, and most importantly, build relationships.
The power of voice is that you can explain yourself in detail, allow the tone of your voice to add the essential emotional and personality to your words, and also communicate more quickly and efficiently than if you were handwriting or typing comments.
Put all of this together and you unlock the power of Synth: connecting with intention and teaching through building relationships. Sign up for Synth today.