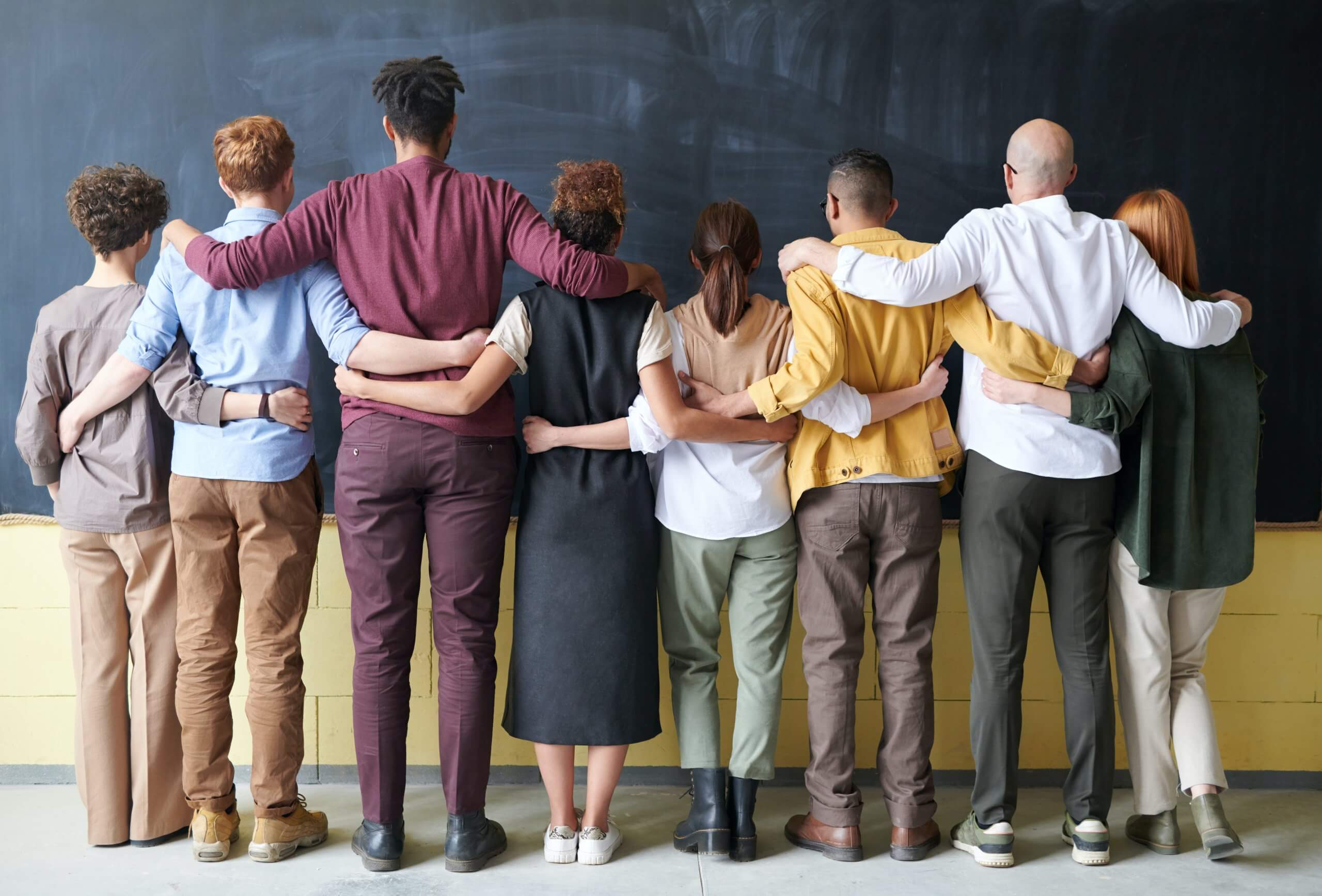 When you hear the word "audio" in schools, what do you think? Do you think of it as a way to build school community?
Too often, the answer is no.
Typically, the term brings up visions of students sitting and listening to a recording the teacher plays: a short story in ELA, a famous speech in Social Studies, or an NPR podcast to complement a science lesson.
Of course listening activities are important and valuable, especially for English Learners and Special Ed students. However, if your thoughts about audio in schools stop at listening, then you're missing out on other benefits of this powerful medium.
Today, audio can help build school community by giving teachers and students more of what they need: conversations and connections.
Audio helps teachers, administrators, and students connect in asynchronous and live conversations. These conversations boost learning and form relationships.
Schools can use audio conversations to deal with two big challenges.
Teachers need support (but not more to-dos)
Students need connection (that happens on their terms)
Below, we'll outline the challenges and show how audio helps to address them.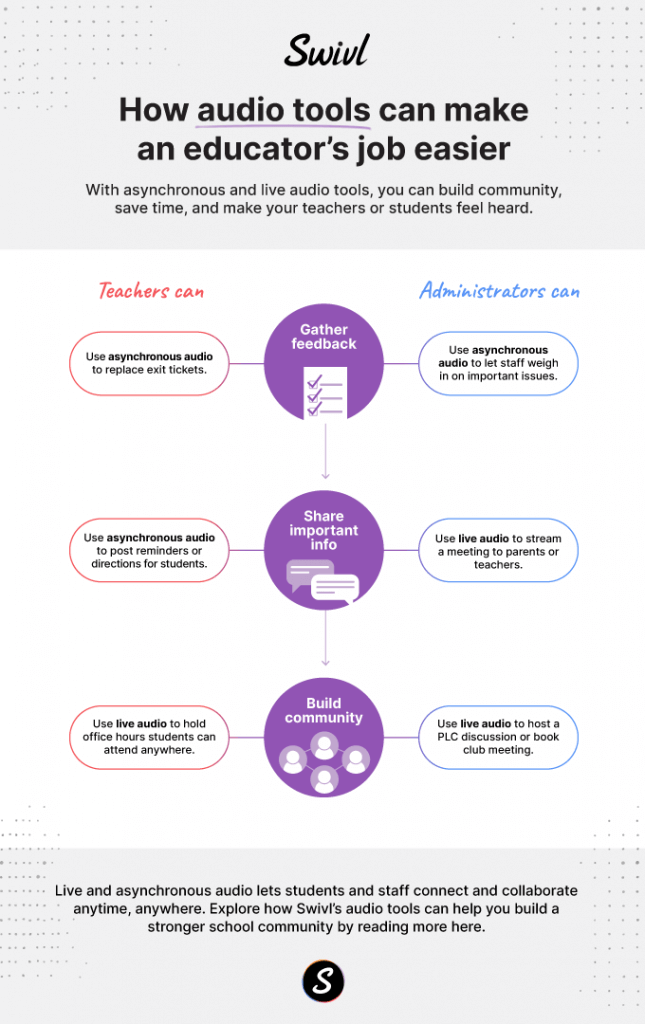 Teachers need support (but not more to-dos)
As some parts of society begin to resemble the pre-pandemic era, teachers face their most challenging year ever. Health protocols, schedule changes, and extra work from hybrid or remote learning leaves teachers' minds and bodies exhausted. More has been added to teachers' plates and little to nothing taken off.
Teachers don't want to stay after school for extra meetings or spend a prep period in an administrator's office. However, having a refreshing conversation with colleagues at a time that is convenient for everyone? That's a different experience.
For an example of the power that making positive connections can have on teachers, check out our recent webinar that Dr. Matthew X. Joseph below:
With asynchronous and live audio tools, administrators give teachers the support they need without adding extra stress to their lives.
How administrators can use audio to support teachers
Here are two ways that live and asynchronous audio tools can help administrators facilitate conversation and connection between teachers.
1) Cancel a meeting and hold an asynchronous discussion instead.
What if administrators decided to cancel one of their meetings and instead share reading material or short (emphasis on short!) videos for teachers to watch?
Then, the administrator could post a question or prompt as an asynchronous audio recording for teachers to discuss. This could free up teachers' time to go home early, or at least complete this professional development on their own time in their classroom. In a typical meeting or PD session, one person speaks and everyone else listens (or tunes out).
When presenting a resource to teachers and turning the discussion over to them, you can improve participation and communication between teachers as well as between teachers and administrators. As the image below depicts, these "conversations that propel" are the foundation of a healthy school culture based on coaching and feedback.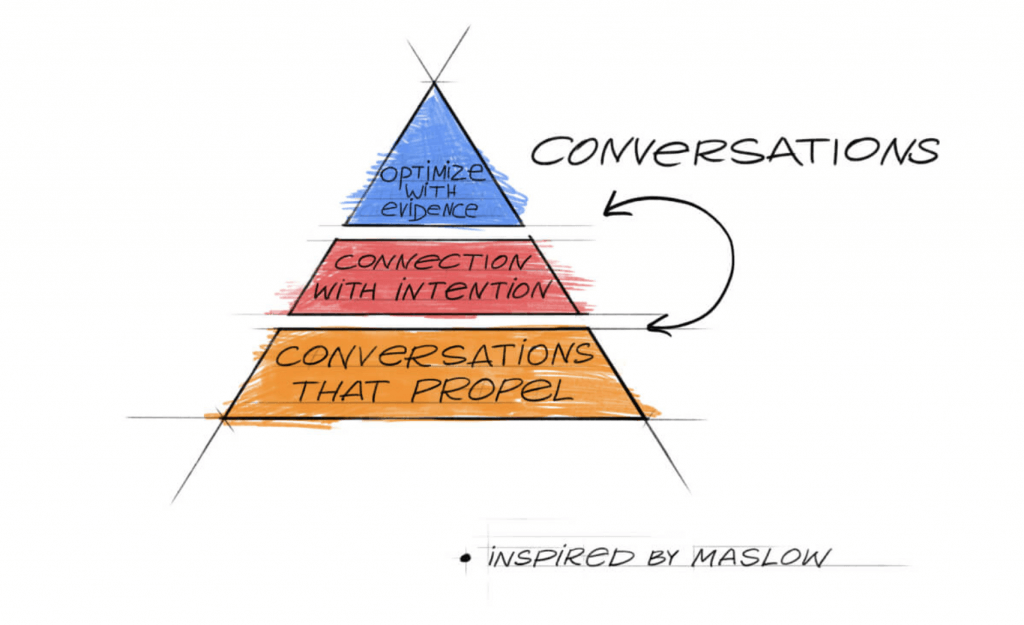 2) Give teachers a chance to share their perspectives via live audio discussion.
How often have teachers wanted to share an observation or question during a meeting, but kept their thoughts quiet? When teachers are shy, or a meeting is running long, this happens often.
A traditional meeting is focused on one speaker, and is not designed to gather perspectives. With live audio, administrators can make a time and place for teachers to share perspectives with each other and administrators, or just listen to others.
This could work through a weekly, monthly or quarterly time where teachers and administrators log on to discuss specific topics or questions, or discuss whatever comes to mind.
The live audio conversation format is useful for schools because it allows people to listen in and share their perspectives anytime and anywhere.
Students need connection (on their terms)
School closures and disruptions to the normal routine have caused stress, anxiety and academic setbacks that may affect students for years to come.
Students need to make connections with each other and their teachers. This can help bring them back into their school communities, engage in learning, and feel supported.
But to get students involved, these opportunities need to happen on their terms. In other words, it has to happen in a way students are familiar with at a time and place that works for them.
How teachers and administrators can use audio to support students
Here are three ways teachers and administrators can use live and asynchronous audio tools to help students connect with teachers and each other.
1) Hold remote office hours via live audio so students can ask questions and get help.
Students are often unable to attend extra help sessions because of work, activities or family obligations. Through live audio, students can ask teachers questions and get help as they do their homework or study. By offering these sessions, teachers can reduce time spent providing feedback on essays and answering questions during class.
2) Offer students asynchronous or live discussions as an alternative assessment.
Discussion and debate help solidify students' thinking and expose them to new perspectives. However, speaking and social skills can hinder students from participating. When students can prepare in advance for asynchronous audio, or reduce in-person insecurities through live audio, they get more practice. Then, teachers can help students apply their skills in class as their capacity grows.
3) Let school counselors provide support opportunities for students.
School counselors have tremendous burdens because of the number of students assigned to them. They are also expected to collaborate with teachers, attend meetings, and complete lots of paperwork. This leaves less time for important check-ins and conversations. It also takes away from the programs counselors would like to host. Through asynchronous audio, counselors can create a channel for regular check-ins or reflection opportunities. They can also hold events through live audio. For example, as part of a Social-Emotional Learning initiative, counselors could hold a mindfulness session students can log on to through a live audio call.
Audio helps you build school community on everyone's terms
While we've mentioned a few strategies for using audio to build school community amongst students and teachers, understanding the reason why this medium is so powerful is the most important message.
To recap, here are three reasons why live and asynchronous audio help build community in a sustainable way:
Hearing another's voice helps form connections. When you connect with a teacher or student via audio, they hear your voice, and all of its feelings, inflections and tones.
Mobile + audio = check-in anytime, anywhere. Over 95% of Americans own a cell phone. Teachers, students and parents can listen to audio messages online, in the car, and while they walk the dog.
It's easy to start a conversation. Whether you're coaching a teacher, supporting a student, or connecting with a parent, conversations happen easily over audio live or asynchronous audio.
When you're ready to begin using live or asynchronous audio with your teachers or students, Swivl offers the tools and support you need to get started.
Explore these related resources: