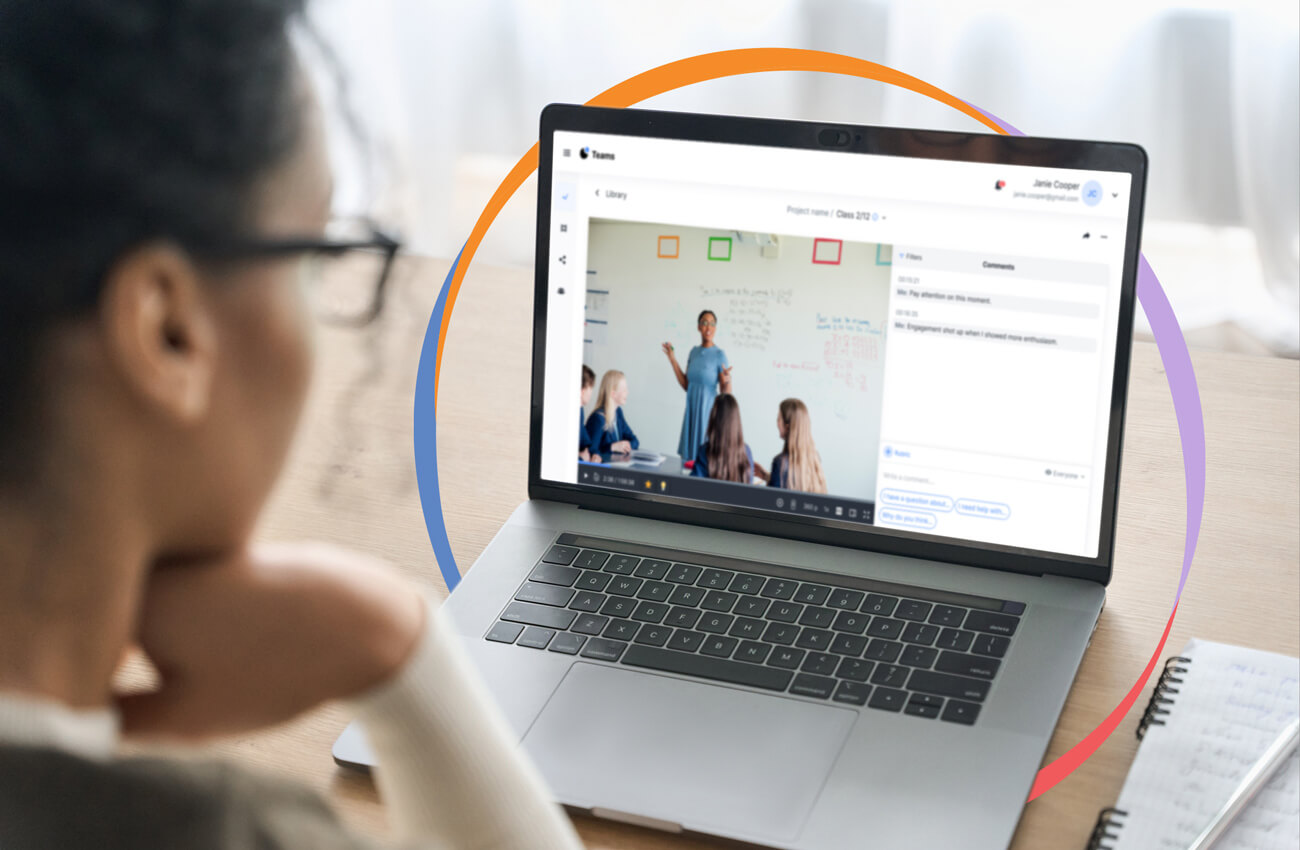 This blog is focused on the use of Swivl Teams. Teams is now Reflectivity – learn why we changed our name →
By June 2021, half of American schools were using a hybrid learning model.
Since then, schools have invested in hardware and software. Teachers have expanded their tech skills. It's been a crash course in using tools and talents to stay connected and solve problems, even when apart.
Now, administrators are applying the same tools and talents to one of the most urgent issues in education: teacher support.
Let's look at how two innovative districts re-imagined teacher support using classroom video to build relationships and maximize educator growth.
But first, let's review current teacher support practices, and why they're inadequate for helping teachers with the challenges of a return to in-person instruction.
New tools can help improve old teacher support models
Student behavior issues and academic skills gaps make today's classroom challenges uniquely acute.
Traditional teacher support practices, including new teacher mentoring, observations, one-size-fits-all PD, and walk-throughs, are inadequate to address current instructional challenges because feedback happens too slowly and too infrequently. For most teachers, support drops significantly after year one.
Some districts have invested in instructional coaching, formal peer collaboration like professional learning communities (PLCs), and personalized professional learning paths.
While these structures are an improvement, they also bring challenges. Substitute shortages and other stressors on personnel make it impractical to get coverage to observe a colleague's class. Travel across district makes coaching time- and resource-intensive.
Without a common place for capturing instruction, reflecting, discussing, and planning next steps, support efforts can feel wasted or one-off.
The perfect storm has emerged, where teachers need more support than ever, and districts need support to be more efficient than ever. The good news? Many districts have already discovered tools and systems that can help make it happen.
Here are two examples.
How an Arizona district leverages classroom video to support early-career and "singleton" teachers
Littleton Elementary, a district of seven physical and one virtual schools in Avondale, Arizona, was first introduced to Swivl Robots to support remote instruction.
"Then, we realized the power of video and streaming," Director of Instructional Technology Jim Verrill said.
Jim and his team saw how Teams by Swivl paired with Robots would address the district's challenges in supporting high-quality instruction for all students with many early-career teachers on staff.
Littleton has implemented a continuum of teacher support practices all based on classroom video:
Self-reflection: Principals encourage teachers to identify instructional challenges through self-reflection

Peer collaboration: Singleton teachers collaborate cross-district with colleagues teaching the same subject. Content or grade-level teams record, share and reflect on lessons to maintain curricular alignment.

Coaching: Coaches have increased their frequency and depth of feedback by having teachers share and discuss classroom video through Teams.

Admin support: Leaders assess school progress through remote walkthroughs, where they view and discuss short instructional videos around key themes.
Through self-reflection, collaboration, coaching and admin support, Littleton has developed an efficient, effective way to build relationships and encourage educator growth.
These Florida coaches use video to expand teacher support and reduce distractions
While traditional coaching can be powerful for teacher support, it comes with the potential for distraction.
"What we want teachers to do is maintain their power in the room," St. Lucie Instructional Specialist Dana Miller said. "And we don't want distraction for students." St. Lucie Public Schools is a Florida district with 50 schools and over 40,000 students.
St. Lucie had a strong foundation of coaching pre-pandemic, and they used their Robots to help absent students stay up-to-speed with missed work. They now leverage Swivl Robot + Teams with Jim Knight's Coaching Framework to make their coaching more efficient and discreet.
St. Lucie does not require teachers to record themselves, but offers Robots to teachers looking for support. After teachers self-reflect, coaches encourage teachers to identify where they may want to work with a coach. Because teachers have already captured video, teacher and coach can discuss without having to schedule a new observation.
This year, St. Lucie coaches have pushed their work further using Robots for live-streamed lessons with in-ear coaching.
"As a coach, we see a problem in the moment, and we can help the teacher make a fix right away," Dana said. "We use as few words as possible so the feedback is quick, immediate, and not distracting to the teacher."
In a time of uncertainty, the need for teacher support is clear
While much is uncertain for school and district leaders in the coming months, a few things are certain.
Teachers will need support to overcome challenges and help students continue to make academic progress. These support interventions will need to be effective, but also time and resource efficient because of the circumstances districts face.
As both Littleton and St. Lucie demonstrate, it's time to repurpose the tools and talents adopted for hybrid and remote learning. It's time to offer teachers a continuum of support options and pathways to get help. And it's time to make classroom video the centerpiece of teacher growth.