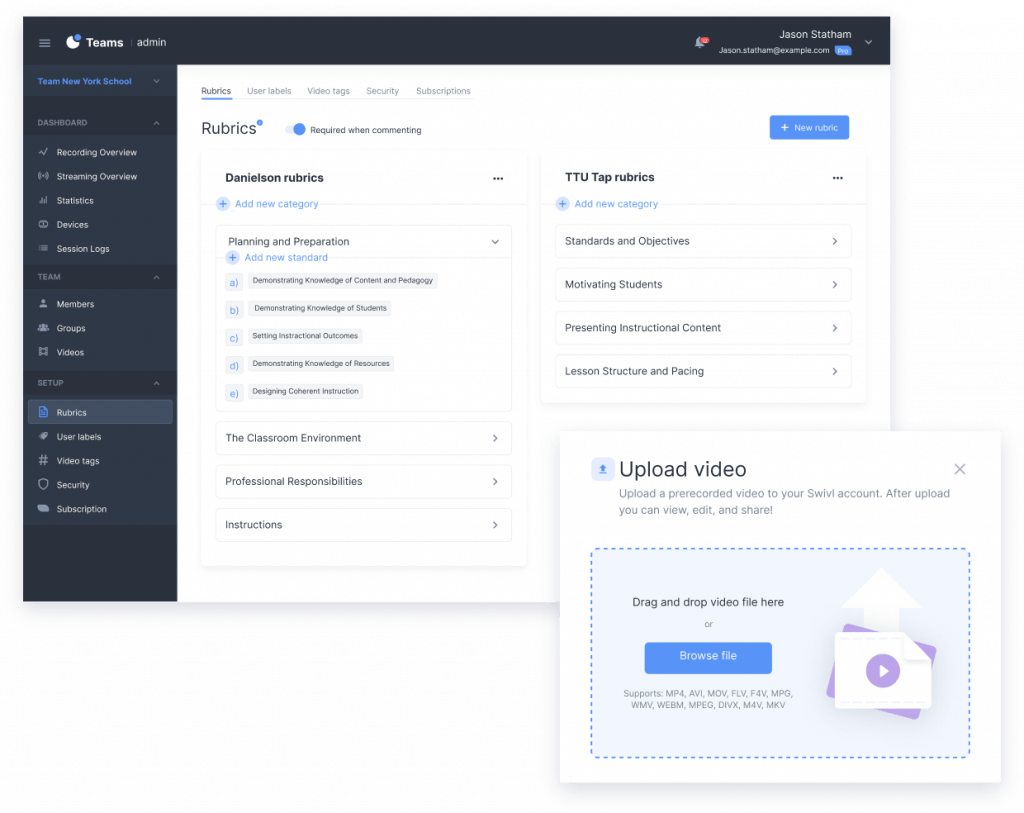 Security. Access. Collaboration.
Secure communication between coaches, teachers, and peers.
Document feedback in real-time to show evidence of learning.
Use annotation tools to highlight "Glows" and "Grows."
Provide evidence with Rubrics.
Record anytime, anywhere.
Safe & Secure
Keep conversations secure by sharing individually or with a whole group.
Time-Stamped Annotation
Annotate content, get feedback and engage in an ongoing dialogue in private and publicly.
Multi-Camera
Record up to five video sources simultaneously for a holistic classroom view.
Bookmarks
Use a Marker while recording to save key moments in real-time. Also available on the Web.
Speech Analysis
Listen to and analyze up to five independent audio tracks when paired with the Swivl CX5 robot.
Rubrics
Create your own rubrics or choose from a pre-built template.
Screencast
Freely move about the classroom as you record your video, screen, or lesson activity.
Video Statistics
Gain insights on usage and engagement based on individual Teams members.
Security Controls
Manage admins, control sharing, store localized content and it includes AES 256-encryption.
We provide users with a standard (free) subscription that allows the user to store their video content and share it. It also includes all basic features.
What our
customers

say
"The Swivl has revolutionized my teaching. It's so easy to record one lesson, then play to all of your classes or assign for homework. My time is freed to help the students with problems as they occur. Students love the additional one-on-one interaction. I love the extra energy I have."
"Our project is building the skills and confidence of early childhood educators to promote social and emotional learning and the inclusion of all children. Swivl helps our educators in rural areas capture and share the practices they are using with children with their coach. We love the annotation feature to encourage reflective questioning and provide positive feedback. Swivl supports our team to work together collaboratively even when they are far apart!"
I am convinced that videos are productive tools to enhance teachers' professional development and students' achievement. The Swivl robot's ability to navigate with the teacher's movement make it easy to get the full picture of what is happening in the classroom.
Math Program Specialist
Fulton County Schools, GA
"Swivl provides more opportunities for educators to inform and engage students. And for students, Swivl provides the comfort of face-to-face instruction when they need it and the flexibility of technology when they want it."
"Swivl allows us to exponentially grow, which is our goal. In every feedback session the mindset is growth: I want to continue to be better, not just for myself but for the kids."
Our big goal is to help our teachers grow in their own learning throughout the district. Swivl not only meets this goal but it exceeds it and has been implemented in a variety of ways, not just for professional development.
Technology Integration Specialist
Ames High School, IA
Swivl is a powerful tool that allows teachers to be creative, provide engagement opportunities, and create endless learning possibilities.
Academic Technology Coach
Northside ISD, TX
"As a special education teacher who has students reflect on elements of their presentations such as body language and clarity of speech, Swivl allows my students to receive feedback immediately by reviewing their presentations. Swivl is helping our students develop 21st century learning skills that are essential for success."

Let's
talk
Interested in leveraging Teams in your school? Just fill out this form and we will contact you about your needs and pricing.