July 29, 2015
Flipped learning can be a powerful way to use technology for increased student engagement and studen...


July 27, 2015
In a student-centered classroom, it is important for students to take ownership of their learning an...


July 12, 2015
For centuries, schools have sat in silos. Teachers and students were capable of communicating only w...


July 7, 2015
We combined weeks five and six because of ISTE 2015. I had a great week and it was my first time at...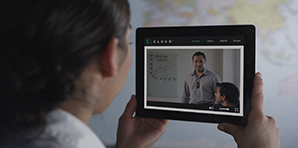 June 29, 2015
The number of reasons and ways students, educators, professionals and video enthusiasts use Swivl an...


June 23, 2015
Just as technology has revolutionized other industries, it has the power to transform education. Unf...


June 22, 2015
ISTE kicks off next week! This is one of education's greatest conferences and the premier event f...


June 17, 2015
In case you missed part one of this blog, we are continuing to look at ways that we can foster relev...