Video Observations Put You at the Wheel
By choosing which of your lessons to record and share, you can take charge of your own professional development.


By making the most of Swivl's hardware and software tools to easily capture what's going on in your class, you can grow as a professional community by sharing it privately with peers and administrators. It's all in your hands: what you record, who you share with, how you develop and improve over time.
Download the Swivl for Video Observations PDF here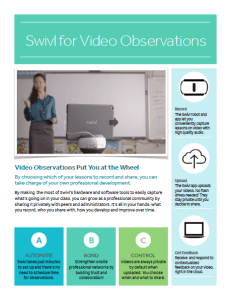 Sign Up for an Evaluation Unit Now

Swivl's technology is being put to use in over 20,000 schools across the globe. Let our Educator Success representative tell you how Swivl can help you reach your goals and transform your classroom using video. Sign up now to qualify for a free 30-day demo robot