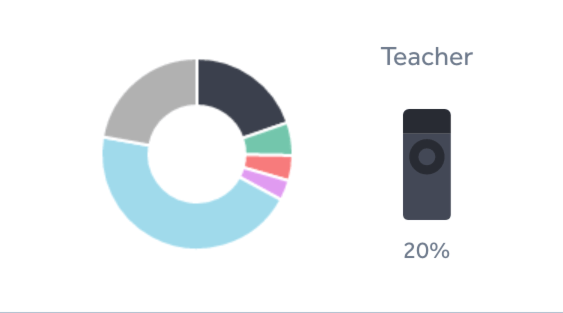 Do Students Talk Enough in Class?
Most teachers don't realize how much time they spend talking during a lesson. While some teachers rightly elevate and emphasize student voices and limit their own talk time, most are unaware of the real breakdown of talk time between teacher (TTT) and students (STT). That's because it's hard to measure!
The more Markers (wireless microphones) used during recording, the better the analysis.
Teachers and coaches would need to watch several hours of classroom observation videos and manually keep track of how often each person speaks. It's valuable information to have, but just not feasible to gather. Until now.
Starting today with Swivl Speech Analysis for Swivl Team Pro users, we automatically inform you of the breakdown between TTT and STT. After uploading your project to Swivl cloud, our algorithm goes to work analyzing the audio and video to show you the talk times - and silent times too!

Why are we doing this?
Student talk time is crucial to measuring student engagement. By recording audio of student groups, we can inform you about their activity levels so you can identify exemplary groups or students who need more attention.

How are we doing this?
Privacy is extremely important to everything we do here at Swivl and speech analysis is no different. We aren't collecting any information about individuals. To produce the talk time data, we analyze the audio waveform for each audio track to determine if someone is actively speaking nearby or not.
In fact, we now use the same technology to improve the audio experience during Smart Playback.
Smart Playback v2.0
With Smart Playback enabled the most dominant audio channel* is enabled while the other channels are muted. For example, if a student is giving a presentation to the class, we enable playback of their Marker only.
When another student asks a question, playback instantly switches to the Marker closest to them to make sure you can hear each voice loud and clear.
*C-3 or C-5 robot required
Next Steps?
Talk to your coach, administrator, or district contact about upgrading to a Swivl Team account. Record a 10+ minute video with the C series robot and multiple Markers, then upload it to your Swivl cloud account. Underneath the video player in Swivl cloud you'll see the speech analysis data.
Inquiries: support@swivl.com
Be a leader on Twitter: @goswivl
Let's talk.