If the instructional coaching model in your district needs a boost, maybe 2020 is the year to introduce Swivl to support video-enhanced instructional coaching and personal educator reflection.
Let's be clear: instructional coaching does not just magically take root in a school. Nurturing a successful coaching model takes vision, time, intention, collaboration, and resources. In the School District of Waukesha, we have developed a strong coaching culture over time, and have committed to providing the personnel, training, and support systems required to make instructional coaching an effective practice in our system. This coaching culture was critical to the success of our introduction of the Swivl. If your system has not yet invested in the study of instructional coaching models, you would be wise to first begin by exploring the many models out there.
With a culture of coaching in place, the innovative Swivl technology creates unique opportunities for coaches.  As members of the Instructional Technology Coordinator team in our district, when our team saw the capabilities of the Swivl C5 robot with multi-audio capabilities, we identified immediate opportunities for instructional coaching implementation. The versatility of the Swivl, and its ease of use, makes it a perfect tool to both augment existing coaching practices, while also modifying and redefining the way educators can reflect on their practice with a coach.
Swivl's Customer Success Team has worked with Waukesha and hundreds of other districts around the country and can provide some inspiration for you. Contact us: support@swivl.com to inquire.
Augmenting Existing Coaching Practice
Watching a lesson together
Instructional coaches spend a lot of time watching and documenting observations from a lesson prior to the coaching conversation. This helps to provide insight and direction for the next instructional moves that can be implemented by the teacher. Through the use of the Swivl robot, coaches still observe lessons and document observations, but they also have the recording of that lesson for later review with the teacher. This video, stored in the private, secure Swivl Teams platform, can be easily woven  into the coaching conversation. 
No longer do the coach and teacher have to rely solely on the notes of the coach, or on a written description of what was said or done in the classroom. With video evidence that specifically focuses on the teacher throughout the lesson, and with the high quality audio that clearly picks up exactly what the teacher and students discussed, both the teacher and coach can maintain focus on next steps, not on clarifying what happened in the lesson.
Modifying Practices Used by Coaches
Two places at once
Spend time with an instructional coach and you will realize that they regularly need to be in multiple places at the same time. This is both a blessing and a curse. Being in high demand is important to demonstrate the value of the coaching role. Being unavailable in a moment of need is frustrating and complicates the coaching relationship. Through the use of Swivl, video recordings can literally force multiply a coach's impact so they can observe 2-3x as many teachers by accessing recordings on their own schedules and teachers are not limited to a particular time of day to be observed. Swivl is particularly valuable when a coach needs to be physically present to co-teach a new strategy with one teacher, while another teacher is working to independently demonstrate use of a technique that has been previously discussed in a coaching session. By asking one teacher to utilize the Swivl to record the lesson, the coach can confidently make the decision to be present where they need to be physically, and they can rest assured that they will be able to provide the necessary feedback to the other teacher (without asking that teacher to deviate from their planned daily schedule). As a result, Swivl promotes independence, demonstrates flexibility, and provides the appropriate levels of support to both teachers and their coaches.
Swivl fully supports co-teaching with multi-microphone tracking handoff.
What did you observe?
One of the biggest challenges with any type of coaching is that the observation notes are always filtered through the eyes of the coach.  As a result, the person being coached may sense a bias in the observation reflections. Coaches can eliminate this concern by having teachers first reflect on the video evidence from a lesson with Swivl's free time-stamped annotation tool. By having the teacher sign up for a free Swivl account and recording the lesson on that teacher's personal account, the teacher reviews video their own instructional practice first. While reviewing the video, the teacher uses timestamped internal notes to indicate observations and practices they wish to discuss in their coaching conversation. The teacher's notes can be utilized as the basis for the coaching conversation, almost entirely shifting the coaching model to be focused on the teacher's personal goals and reflections.

In addition, the coach can also create time-stamped internal notes or public comments using their own customizable Rubrics which not only steers the conversation into focus based on the goals that coach and teacher set for each other, but also builds documented evidence of teacher growth throughout a school year.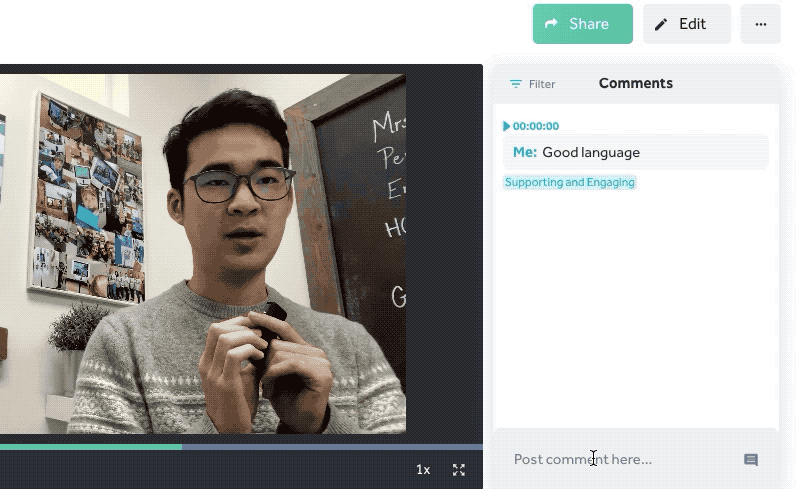 Rubrics can be customized in Swivl Teams for Instructional Coaching, Peer Mentoring, New Teacher Induction, etc.
Redefining Coaching Techniques
Used thoughtfully, Swivl allows coaches to entirely redefine the coaching relationship, offering support and instructional coaching ideas in ways that were not previously possible.
Share the best lesson with me
A common phrase heard in many coaching conversations goes something like this: "I wish you had been here yesterday. You would have seen that."  Through the use of an entirely new coaching practice, this phrase could become nearly extinct. After a coaching conversation that ends with a clearly outlined next step, provide the teacher with a Swivl. Encourage them to utilize the Swivl to record each time they apply  utilize the agreed upon strategy in their classroom. Then have them bring video evidence to the next coaching session to showcase their attempts. The conditions can change based on goals. Maybe the teacher will bring evidence of their most effective and least effective attempt with the technique. Maybe they should show how the strategy worked with one group of students, and then also an example of how it worked with another group, or in another content area. In all of these scenarios, the key is that the strategy no longer has to be observed by the coach to be validated, but instead that the teacher is trying out the strategy to see how it works in practice.

What did the students do? What did they say?
The multiple markers on the Swivl can revolutionize the focus of a coaching conversation. When played in the Swivl Teams platform videos recorded with multiple markers can be reviewed while isolating each marker's audio. If you have yet to hear this in action, it is truly impressive. More, when you do record with multiple markers, Swivl provides a breakdown of each microphone's activity levels.
As a coach, you can utilize this feature to listen to what an individual student or small group discusses and study their reactions to instructional moves a teacher makes.  By strategically placing the markers around the room (being mindful to note specifically who is being recorded on each marker), and recording the lesson, you can answer some key instructional questions. Perhaps you want to identify how many times a struggling student had an opportunity to share their thinking in the lesson. Maybe you want to determine how much of the time allotted for students to collaborate is actually focused on the instructional task. Once utilized, this technique will snowball into a wide variety of uses focused on what students actually do and say throughout a lesson.

Swivl speech analysis is automatically generated on Swivl Teams when recording with multiple microphones in a session.
Getting Started with Swivl
If you have ever opened a school closet to find thousands of dollars of untouched technology still in the original boxes, you understand what we were hoping to avoid while considering how to introduce Swivl into our coaching practice. We needed our coaches to feel comfortable with the technology so they would check it out and use it in their work with teachers. We also aimed to avoid wastefully purchasing technology with great potential and little demand.
Our strategy for introducing coaches to the Swivl was to focus on making use as simple as possible. The Swivl is incredibly easy to use, and the hidden potential begins to unveil itself as soon as coaches and educators understand what the technology is intended to do. We simply needed to stay focused on a positive first experience.
Set it up in advance
Aim for a great first impression when coaches meet the Swivl. Before showing the Swivl to your coaches for the first time, take the key step to set up and charge the Swivl in advance. The Swivl has a lot of small parts when it first arrives. This can feel overwhelming to Swivl newbies. By connecting the lanyards, tucking away unneeded cables, and handling the first charge, you remove unnecessary distractions and allow the coaches to focus on the potential of the tool.
Focus on getting hands-on right away
Our one and only training session for coaches was set for 60 minutes. We spent 20 minutes explaining the Swivl and demoing the Swivl setup for the first time. The remainder of the time was given to coaches to practice their first recordings. Our team was there to answer questions, offer support, and encourage coaches to check out our Swivl units. The primary goal of our training for coaches was to make it a positive first experience with the Swivl, and getting hands-on with the Swivl right away was key to achieving that goal to avoid its non-use.
Available checkout units
We have 25 buildings in our district. Instead of purchasing a Swivl unit for each school and hoping they would be used, we opted for an approach where coaches had a chance to build their own comfort with video coaching. We made two Swivl units available to our coaches district wide, and our team managed some of the logistics of delivery, charging, and re-orientation if coaches needed it. 
When the availability of our checkout units became problematic due to increased use, some coaches made a case to building leaders to purchase Swivl units for their building.  At this point we have at least seven additional Swivls in our system connected to specific buildings where the video coaching model is growing. Two of our AP Spanish teachers love Swivl so much that they partnered to write a grant to get their very own. We still have our two checkout units available, and as the good news spreads about what is possible with video-enhanced instructional coaching, new coaches check out the units and find out what is so revolutionary about the Swivl as a key support for coaches and educators.
In the School District of Waukesha, our video-enhanced coaching culture is still growing. Some of our coaches use the Swivl weekly, others monthly, and some are still dabbling with the introduction of this coaching tool. The key is that our coaching culture is continually evolving, and new opportunities for teacher reflection and professional growth are presenting themselves as a result of our introduction of Swivl within our school ecosystem.
Brian Yearling is a member of the Instructional Technology Coordinator team in the School District of Waukesha located in Waukesha, Wisconsin. The SDW ITC Team regularly blogs on their Technology Integration Now blog (https://technologyintegrationnow.blogspot.com/). Brian's personal blog can be found at: https://brianyearling.com/.
Watch our recent webinar with Brian Yearling and two more Waukesha Instructional Technology Coordinators: Wendy Liska and Kristin Brouchoud
[embedyt]https://youtu.be/w1tWxmgNh0Y[/embedyt]