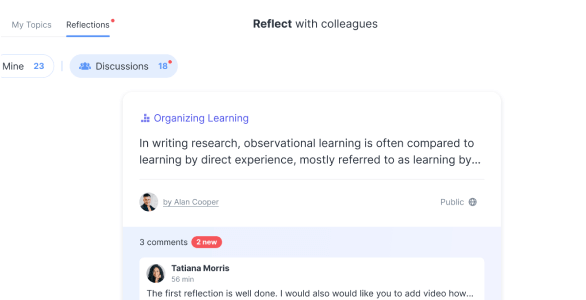 Reflectivity is where educators gain the energy needed to reflect and grow.
With our first release of Reflectivity in March, our goal was to help users gain energy and inspiration by displaying the new and popular topics colleagues are working on.
Since then, we've heard from users that reflecting and discussing those topics is a top priority.
We're excited to announce several new features that deliver on the second half of Reflectivity's promise: reflection and growth.
Better tools for reflection allow users to examine their thinking about a topic and review the work they've done. When educators in an organization are reflecting regularly, they build a body of knowledge that facilitates learning and collaboration.
It's rare for teachers to have one place to track their thinking about important topics. It's even less common for teachers to easily share reflections, so they can learn from and with colleagues.
Todays' release makes this all a possibility. Users can now enjoy significantly enhanced reflection capabilities, including:
Write multiple reflections about a topic
Read all reflections from colleagues in one place
Publish reflections to an organization
And more, which we'll outline below. We'll start with a better experience for selecting topics users may want to work on.
Understand the work happening in an organization
Teachers often feel siloed and unsupported. However, when users begin exploring a new topic, knowing that colleagues are also working on this topic can be energizing.
With this in mind, we're now showing more information about the topics colleagues are working on. Clicking on any individual topic from the new or popular board now shows information about the number of reflections colleagues have created about this topic, how many of those reflections are visible to a user, and a list of the colleagues working on the topic.
By reading others' reflections, users can gain the knowledge and energy needed to begin working on this topic. By seeing the colleagues already working on a topic, users have a better sense of who they can collaborate with.
Track the evolution of your work on a topic
By writing multiple reflections on a topic, users can document their thinking over time to more clearly see how they've solved problems, adjusted their perspective, and improved their practice.
Writing a series of reflections on a topic can help users uncover areas to explore with a coach, communicate growth to mentors or administrators, or track progress for future reference.
Share insights, wins and questions with your organization
Many teachers regularly share their thinking with PLCs, grade level teams, or other smaller groups. However, certain instances call for sharing ideas with an entire school or district. To help facilitate this, users can now publish reflections to their entire organization.
Publishing reflections to the organization allows users to celebrate wins, request help from their community, or share new insights about common challenges. Users may even use publishing to the organization to gain added accountability for their work.
Publishing a reflection takes vulnerability. It's important to note that it's always optional for a user to publish their reflection with their organization, and it can easily be undone.
We're excited to see how published reflections and the discussions around them can help build trust and spread good ideas within an organization.
Learn from and with colleagues
It's now fast and easy for a user to view all the reflections visible to them, whether those have been directly shared, or they've been published to the whole organization. By sort reflections by topic, date, and whether or not they include video, users can tap into organizational knowledge built by their colleagues.
For example, imagine you are beginning to integrate social-emotional learning into your classroom. With a few clicks, you can read all reflections your colleagues have posted about this topic. You can then begin working on this topic, starting from a foundation of knowledge gleaned from your colleagues' experiences.
Collaborate with colleagues who share your interests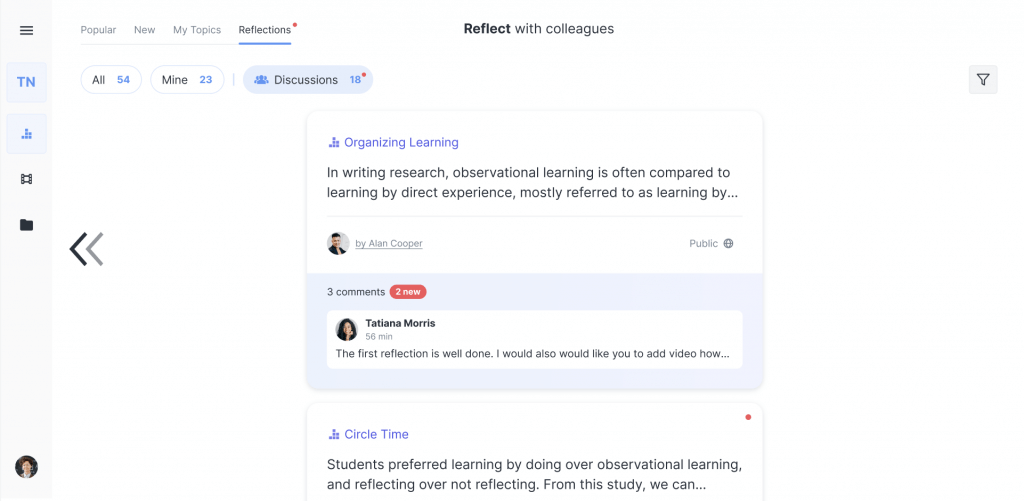 It's now easier for users to view reflections shared with them and participate in discussions through filtering reflections by discussions. This shows users all reflections that are shared with them, new comments on any reflections they've shared, and new comments on any reflections they've previously discussed.
By putting these all in one place, users can quickly see the latest updates on the work they're doing with colleagues.
Reflection and collaboration make growth inevitable
With these new updates, we're excited to see how educators can gain even more energy by having better insight into their colleagues' work. Through writing, reading, sharing, and discussing the most important topics to you and your organization, you'll take valuable steps towards building trust, sharing good ideas, and improving your practice.

After you try these features, we'd love to hear you feedback. Share your feedback with us by emailing success@swivl.com, or mention us on Twitter at https://twitter.com/swivl.