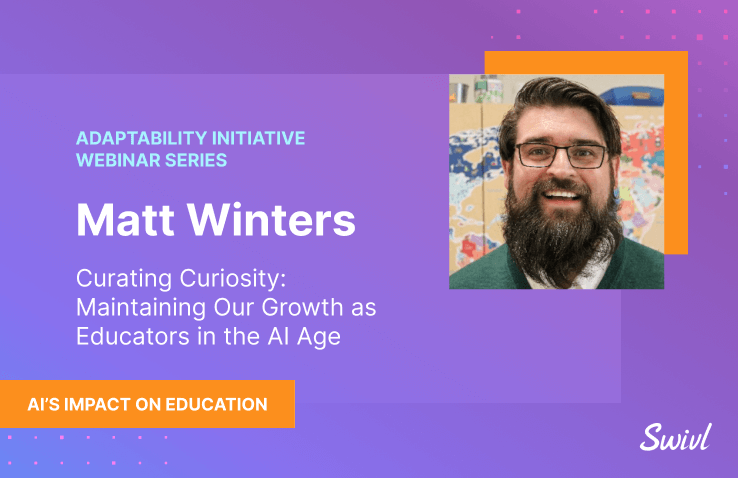 In the ever-changing landscape of AI, adaptability is a necessity. With the Swivl Adaptability Initiative, we are partnering with thought leaders like Matt Winters in our ongoing webinar series to help make these strategies and tools accessible to everyone.
Matt Winters presented on "Curating Curiosity: Maintaining Our Growth as Educators in the AI Age" on Tuesday, October 2023. Matt connected with an audience of educators in sharing various technologies that can be used to develop teacher curiosity and foster creativity and curiosity for students.
Who is Matt Winters
Matt Winters serves as a product manager and statewide educator at the Utah Education Network, specializing in Google Workspaces for Education. He also holds the position of co-leader for the Google Educator Group in Utah and is the President of the Utah Coalition for Educational Technology (UCET) , the Utah affiliate of ISTE, for the term 2022-2024.
Matt has been recognized as one of the "20 to Watch" by the International Society for Technology in Education in 2023 and has received Tech & Learning's award for the Best Example of Professional Development. He has also worked as an English Language Arts teacher at both the secondary and college levels. Matt is a podcaster, having worked with Edtrex Rewind and The UCET Podcast, and currently with UEN Homeroom. His passions lie in the realms of storytelling, creativity, and technology, and he relishes the points at which these three interests intersect and thrive.
What Matt Presented
Teachers often challenge students to become more curious, encouraging students' exploration. But often educators lack curiosity as well, resulting in finding it challenging to instill curiosity in students.
To understand how to utilize technology for creativity, Matt originally discussed why technology can be challenging for educators. What makes it sometimes difficult for educators to foster enthusiasm for technology? The abundance of options. Matt suggested that one of the most effective methods for enhancing curiosity and navigating the overwhelming realm of technology is gaining a clear understanding of the available tech solutions.
ChatGPT popped up on the scene a little under a year ago, but this language model is actually just the start of AI. Matt reminded us that there are a variety of other tools on the market for educators to utilize for technological needs. Synthesia, Poised, Perplexity, and Dall·E, just to name a few.
How can educators facilitate the expression of curiosity among both students and teachers? For starters, if traditional exams represent the primary means of student assessment, the educational system might be doing a disservice to students. According to Matt, alternatives such as podcasting and video production, utilizing various AI technology tools, are avenues for students to exhibit their creativity.
Matt also advocates for educators to aid students in discovering their enthusiasm for technology. Taking periodic tech breaks can help prevent burnout. Moreover, educators can foster mentoring relationships in the field of education. Whether these relationships are formed at local tech conferences, within the school district, or through colleagues, mentors can play a significant role in challenging the perspectives of most educators, thus enhancing curiosity.
Check out the full webinar replay by clicking below.
We're partnering with schools and districts around the country to create learning communities that fuel the momentum needed to build adaptability among teachers—especially when it comes to AI.
Connect with us to start building an adaptable community.