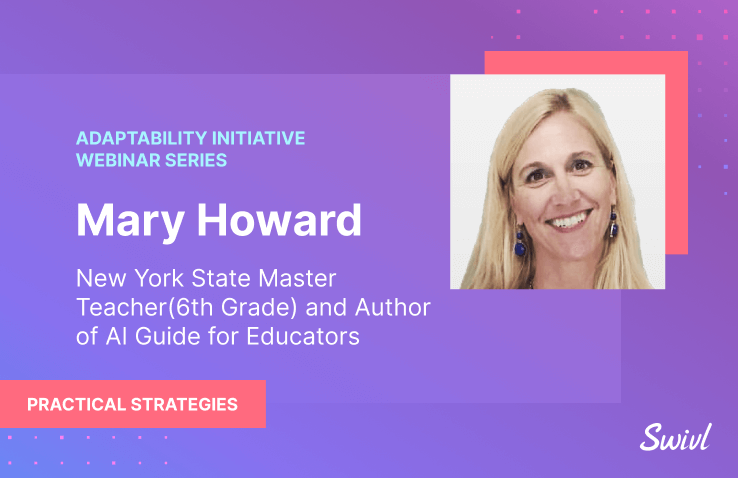 The Swivl Adaptability Initiative was created to establish collaborations with educational institutions and school districts, with the aim of cultivating dynamic learning communities.
Within the framework of this initiative, we're nurturing partnerships with educators and forward-thinking leaders in AI under the realm of our ongoing Adaptability Initiative Webinar Series.
New York State Master Teacher Mary Howard gave her presentation "Is ChatGPT for me?" on Thursday, October 5, 2023. Mary led a dynamic session on how to access the AI-powered language model ChatGPT, how to use it to help assist with instructional tasks in the classroom, and more.
Who is Mary Howard
Mary Howard of Grand Island, NY is an accomplished New York State Master teacher. Instructing 6th-grade, Mary's teaching approach harnesses digital tools that promote critical thinking, collaboration, and the nurturing of a lifelong passion for learning.
Over the past decade, Mary has presented at various technology conferences throughout the state of New York, earning global recognition as a speaker specializing in augmented reality and virtual reality's classroom applications. Additionally, Mary has published numerous edtech articles, has received several awards, and is the author of this book on AI, ChatGPT and education.
What Mary Presented
ChatGPT provides educators with the opportunity to simplify educational endeavors. In sharing the importance of this tool, Mary provided practical and strategic insights on harnessing the potential of ChatGPT, along with guidance on how to utilize ChatGPT throughout an educator's teaching journey, and why this tool is needed for today's classroom. She elaborated on the functions and limitations of the language learning model, highlighting the benefits it offers to educators.
During her presentation, Mary also emphasized the importance of recognizing ChatGPT's potential for bias. Extreme caution should be used when inputting prompts into the system, for grammatical and spelling errors and to receive optimal results. Furthermore, Mary shared a range of valuable features within ChatGPT that can aid educators in saving time and enhancing teaching processes. These features include enabling ChatGPT to create lesson plans and generate lists of terms and definitions, the development of engaging classroom materials such as crossword puzzles or worksheets, and more. ChatGPT's functionality clearly supports efficient time management for educators, as expressed in the webinar.
Check out the full webinar replay by clicking below.
We're partnering with schools and districts around the country to create learning communities that fuel the momentum needed to build adaptability among teachers—especially when it comes to AI.
Connect with us to start building an adaptable community.