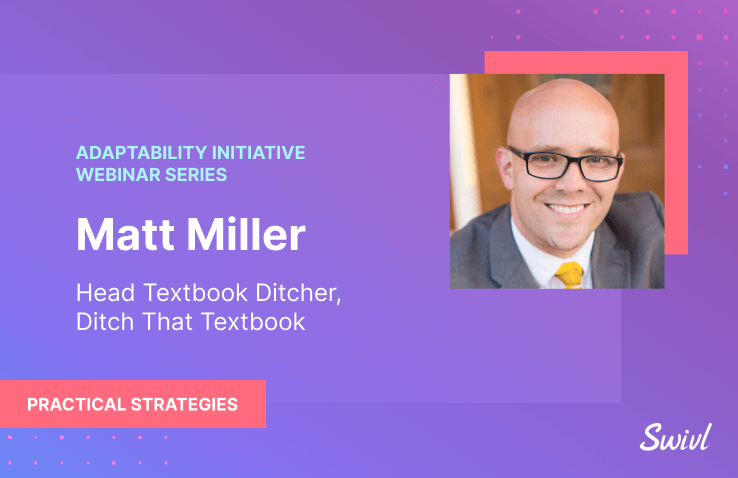 Through the Swivl Adaptability Initiative, we are forging partnerships with schools and districts to develop dynamic learning communities that can transform innovative ideas into actionable strategies. As part of this initiative, we are also cultivating partnerships with industry-leading
AI educators and thought leaders as they share their insight in the monthly Adaptability Initiative Webinar Series, fostering collaboration and adaptability.
And if there is anyone that knows the power of adaptability, it's Matt Miller. An hour before his presentation his internet and cell service went out. On his quest to find a place where he could access the internet, he ended up presenting from his car in a rural area, surrounded by farm land.
This edtech influencer and author presented "The Future of Classwork with AI" on Tuesday, September 26, 2023. Matt wowed an audience of attendees on the power of adaptability and educators making immediate changes to adapt to a future that will indeed include AI.
Who is Matt Miller
Matt Miller is an educator, blogger and public speaker from West Central Indiana. Matt has presented to thousands of teachers at hundreds of workshops on a number of topics related to educational technology, student engagement, and more. Combining a conversational, engaging speaking style with loads of resources, Matt leaves teachers equipped and inspired to move forward.
Matt has infused technology and innovative teaching methods in his classes for more than 10 years. After trying to do the traditional "teach by the textbook" for a few years, he launched into a textbook-less path where learning activities were often custom-produced for his students as well as infused with technology.
The creator of the Ditch That Textbook, a blog that showcases technology and creative ideas in teaching, Matt is also a Google Certified Innovator and Microsoft in Education Expert. Named a 2023-2024 Top 100 Influencer in EdTech by EdTech Digest, he has has won the WTHI-TV Golden Apple Award for excellence in teaching and is the author of six books, including Ditch That Textbook: Free Your Teaching and Revolutionize Your Classroom.
What Matt Presented
While educators do not know the full extent of how AI will impact education, Matt shared a much-needed reminder: we've been here before. From the printing press to calculators, to the internet, technology in education is always evolving and will often change the way educators instruct and students learn.
AI will have a significant influence on the future of classroom activities. However, as Matt highlighted, instead of ignoring the presence of AI, educators should engage in conversations about leveraging AI as an effective educational tool. This can help create a more collaborative environment for both students and teachers.
Throughout the presentation, Matt discussed practical strategies educators can implement in the classroom immediately. One of these changes is integrating AI as an additional instructional resource, rather than reverting solely to traditional methods like paper and pencil. Matt also expressed the importance of using AI adaptive technologies to accommodate diverse learners, such as text-to-voice features, and utilizing AI to encourage student creativity and foster increased collaboration.
Check out the full webinar replay by clicking below.
We're partnering with schools and districts around the country to create learning communities that fuel the momentum needed to build adaptability among teachers—especially when it comes to AI.
Connect with us to start building an adaptable community.