What is Swivl
Swivl provides the best video data capture and most flexible software to help achieve your organization, teacher, and student goals.
Gathering Audio and Video Data
Multi-Microphone
Record independent audio channels to easily record teacher AND student interactions. Hear every voice in the classroom.
Multi-Camera
Record multiple videos to capture small group interactions. See and hear everyone for a holistic understanding of the classroom.
Coaching Tools
Only Swivl cloud enables you to easily interact with your projects effectively. Share with colleagues to collaborate and get time-stamped feedback.
Admin Tools
The admin is able to manage users, create groups of shared content, build best practice libraries, and monitor teacher progress.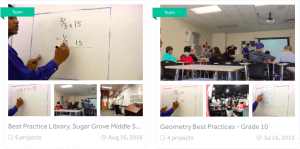 Swivl Cloud
Learn more about making the most out of Swivl cloud using an interactive feature list by plan.
Swivl rotates to follow the teacher and record video and audio. Upgrade to Multi-Microphone to capture audio of teachers and students. Use the Floor Stand for optimal recording height.
Select Pro or Pro+ accounts for your Team to enable the right feature set for your school. The Swivl app records the teacher, the Swivl + Student app records the students. iOS, Android, and Chromebook.
Swivl Live
Stream real-time video with anyone! It's easy, just connect to Swivl and use your favorite video streaming app like Zoom, Skype, or Facebook Live.
Classroom Audio
Broadcast your voice everywhere and listen to your students from across the room anytime with a C-Series Robot.