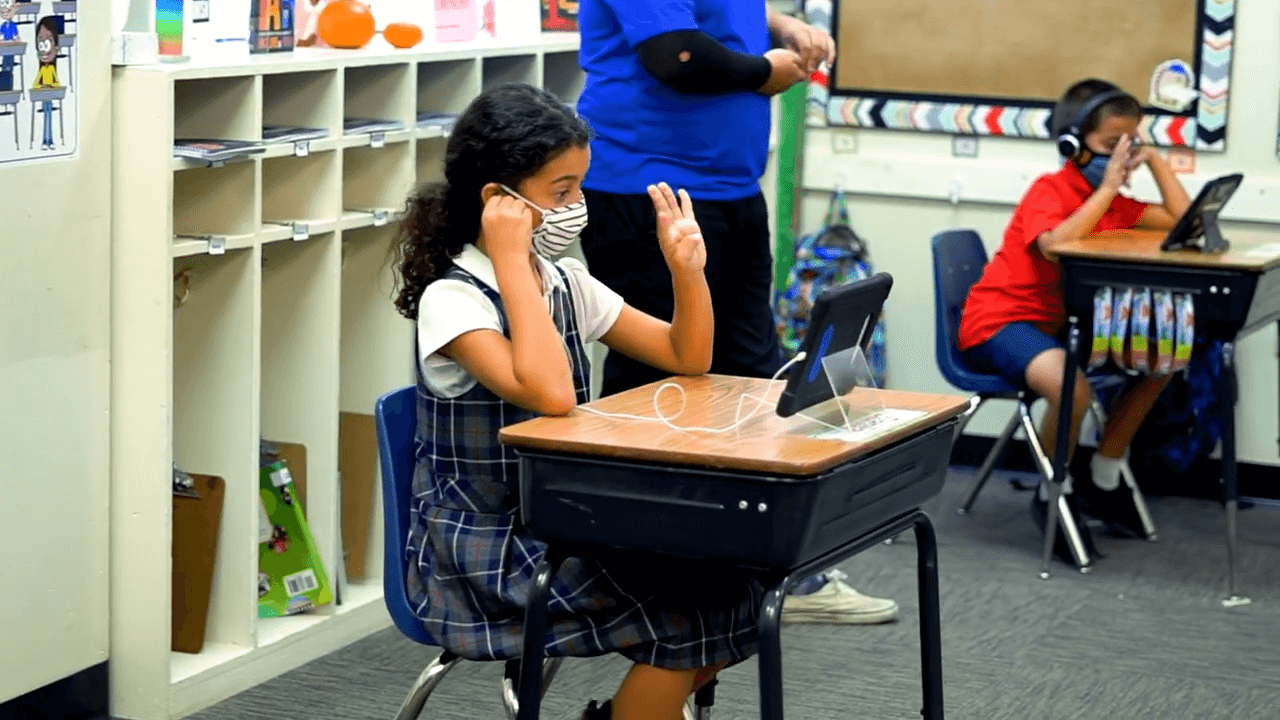 Fairmont Schools Director DJ Clovis shares the standard operating procedures he developed to help over 100 teachers in his school network use Swivl every day for hybrid learning.
After investing in new hardware, district technology departments and administrators want to ensure that teachers make the most of their tech by fully utilizing it to enhance student learning.
During hybrid and remote learning, this challenge is magnified by the additional stressors, responsibilities, and tasks placed upon teachers.
Getting 100+ teachers moving in one direction
This was the situation experienced by Fairmont Music and Dance Academy Director DJ Clovis, who was tasked with helping over 100 teachers develop a smooth process for using Swivl every day as part of Fairmont's hybrid learning set-up.
From a leadership perspective, DJ needed to get buy-in from all of the teachers in his school network in order to provide an equitable experience to all Fairmont students, whether they were learning in-class or at-home.
A Swivl-focused plan creates an equitable hybrid learning environment
Using a solution based on Swivl robots and markers, DJ observed that the teachers who had the most success were the ones who committed to using Swivl every day as a way to "get their teacher legs back."
"Obviously, it's more layers of technology, but at the end of the day, giving all of your students the ability to feel like they're part of the class is the number one thing," DJ said.
When Fairmont opened its door to students for the fall of 2020, they had outfitted 122 classrooms across their network of schools with Swivls to empower teachers to engage students for in-person and at-home learning.
How DJ helped all Fairmont teachers use Swivl everyday
First, DJ conducted training sessions to help teachers get comfortable with Swivl, create a routine for its use, and answer questions teachers had about its implementation. To streamline daily teaching with Swivl, DJ and teachers created standard operating procedures (SOPs) for how to set-up the Swivl and other tech in the beginning of the day, how to ensure everything ran smoothly during the day, and how to end the day effectively.
The procedures are broken down into three phases, listed below: Daily Set Up, During the Day Procedures and End of Day Procedures.
1 - Daily Set Up for using Swivl during hybrid learning
To begin each day, Fairmont teachers follow this procedure to prepare their hybrid classroom. Each classroom is outfitted with a Swivl robot, Swivl markers, an iPad, a desktop/laptop, bluetooth speakers, a SMART board, and a large-screen TV.
Remove iPad, Swivl robot and marker from charging devices.

Wipe down all Swivl robots and ipads before putting them together.

Place iPad on Swivl robot and place tripod in preferred teaching area.

Turn on desktop or laptop (depending on classroom set-up).

Turn on TV in the back of the classroom for seeing students via Zoom.

Once your Zoom room is open, make sure that your Zoom room is shown on the TV in the back of the classroom. 

Open your Zoom room on your Desktop or laptop and make sure the room is open.

After opening the zoom room make sure your video and microphone are off. Also mute the sound coming from your computer. 

Turn on Swivl Marker.

Join the Zoom room via your iPad.
2 - During the Day Procedures for using Swivl during hybrid learning
These procedures help teachers ensure that all their devices are charged, so they can maintain their hybrid learning set-up throughout the school day.
When not in use, plug in the Swivl and iPad to charge.

Remember that you must charge your Swivl and iPad separately.

As long as you charge both devices sporadically throughout the day, there should be no issue in terms of battery life. 

Place your Swivl device in a location safely away from students.

Easily move your Swivl to areas of the classroom where you need it.
3 - End of Day Procedures for using Swivl during hybrid learning
These end of day procedures ensure that equipment is turned off, set to charge, and ready to go for the next day of teaching.
Remove your iPad from the Swivl docking station and plug it into the charging station. 

Plug the Swivl docking station into the charging station.

Place the Swivl marker into the docking station to charge. 

Wipe down the Swivl, iPad and Marker with Lysol wipes.

Close all Zoom sessions on both iPad and desktop.

Turn off the TV in the back of your classroom before leaving for the day.
Ultimately, DJ believes that Swivl has helped Fairmont transform their instruction because of commitment, resilience and organization. "You have to have a plan to help teachers succeed," DJ said. "If you create your SOPs and you have hands-on training, you'll help teachers be successful."
By developing a quality plan for helping my teachers manage the use of their Swivls on a daily basis, as DJ has done at Fairmont, you can increase the likelihood that teachers will use Swivl consistently and fully realize its benefits.