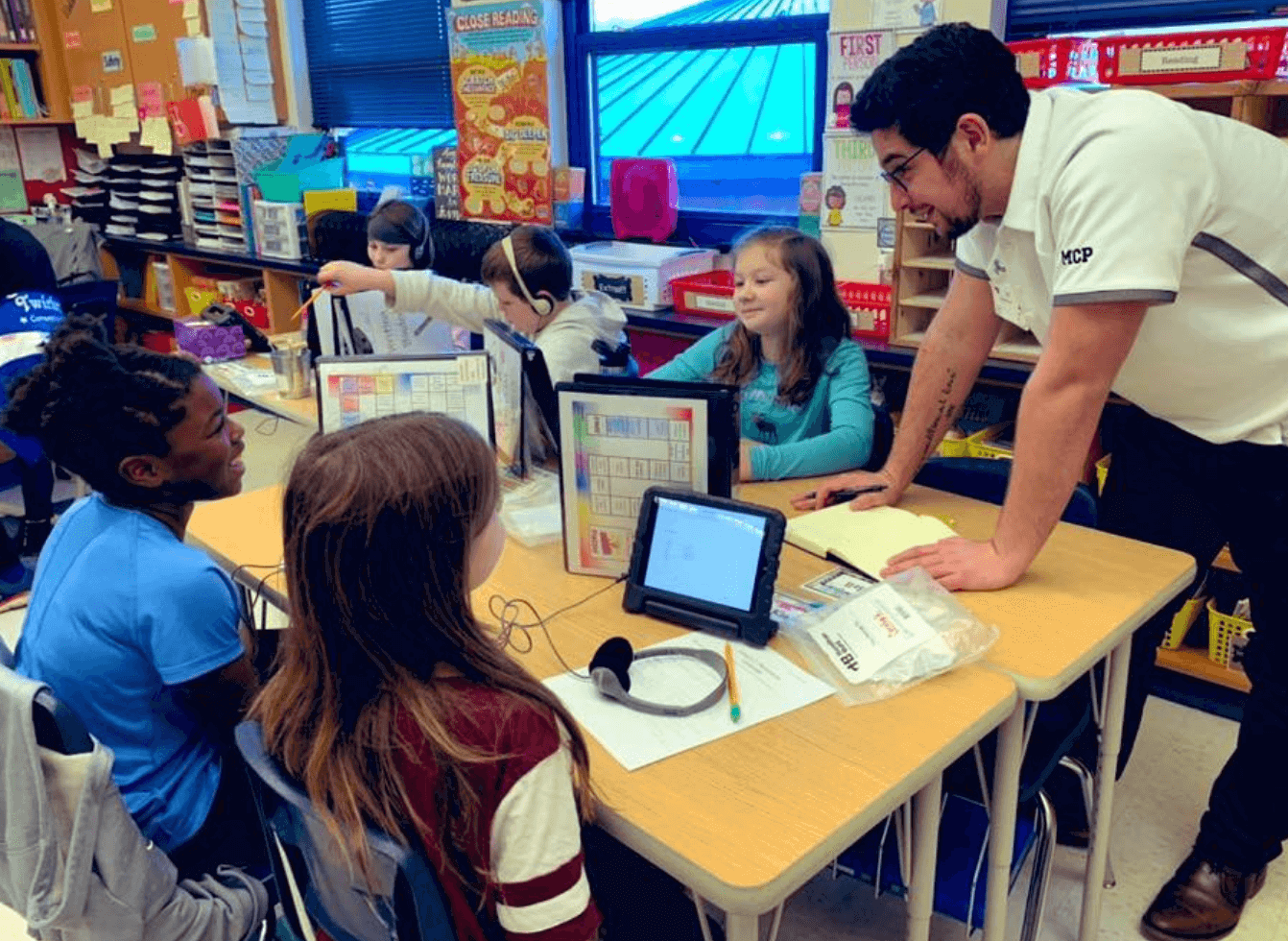 It all started in a high school math classroom in Washington, D.C. Two math teachers, Kareem Farah and Rob Barnett, connected over their shared frustration: both were trying to teach advanced math to students who lacked fundamental skills, if they came to school at all. But what could they do? Rob and Kareem began to brainstorm ways to solve this problem and knew, just like every math problem, there had to be a solution.
The solution, as it turns out, was within Rob and Kareem all along. Using their teaching expertise and an innovative mindset, Rob and Kareem began incorporating short instructional videos into their teaching to enhance student learning. With time and lots of refinement, they built an instructional model grounded in blended, self-paced, mastery-based learning. Within a few weeks of implementing this new model, Kareem and Rob could see a difference in their classrooms and within themselves—student engagement levels and confidence grew while teaching felt more sustainable and rewarding. There was no going back to the traditional ways of teaching!
They built an instructional model grounded in blended, self-paced, mastery-based learning.
Kareem and Rob had found success transforming their classrooms and wanted to share their model with teachers everywhere. They knew there were teachers around the world, just like them, who were frustrated with traditional teaching methods and ready for a new approach. So in 2018 they created the Modern Classrooms Project, a nonprofit organization that supports teachers in reimagining their classrooms to meet the needs of all learners. Today, over two million people have watched their Edutopia video and Modern Classrooms Project is a growing movement of 20,000+ educators transforming education across the world.
Let's take a closer look and break down the three core components of the model.
Blended instruction
One of the first steps to create a Modern Classroom is to eliminate lectures and replace them with teacher-created instructional videos. These instructional videos explain new concepts or skills to students in an engaging and focused way. Students no longer have to wait for their teacher's lecture to access new content and they have unlimited access to these instructional videos and accompanying resources.
There is a common misconception that blended instruction is just 'teaching behind a screen'. In reality, blended instruction frees up teachers' class time to work with students individually or in small groups. A Swivl in this classroom wouldn't show a frustrated teacher at the whiteboard. Instead, it would show a teacher working closely with individual students, and having fun while doing so.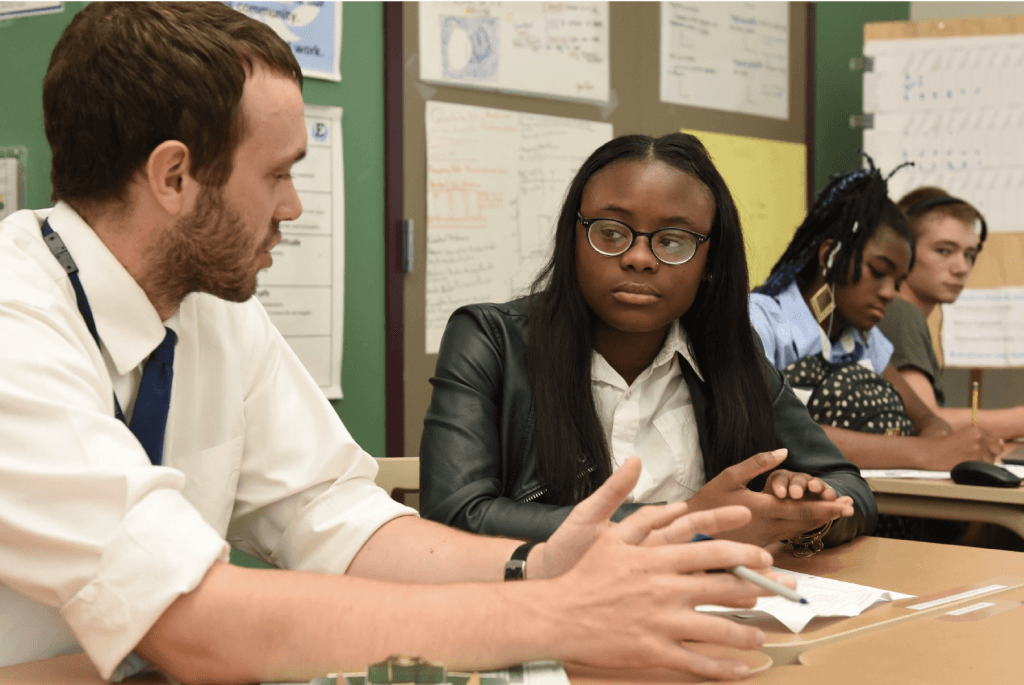 Self-paced learning
With blended instruction, students are now able to control the pace of their learning. Teachers no longer have to move to a new lecture or lesson every day and students can take longer with material they are struggling with, skip topics they already know, or repeat topics they want to reinforce. Similarly, if a student misses class they can easily catch up since they have access to the instructional video and aren't held to a fixed-pace of learning. They can pick up where they left off and only progress when they are ready. When students are in the driver's seat of their learning, they become more self-directed and autonomous, preparing them for future success in the real world.
Mastery-based grading
here are myriad ways to grade or assess students but if they don't truly measure student understanding, these are mere numbers in a gradebook. Numbers that don't communicate growth or progress. Numbers that aren't used as the important data points that grades can be. That's where mastery-based grading comes in. We compare mastery based-grading to building blocks. To build a tower, you first need a base and then one by one you can add blocks to get to the top. The same is true for student learning, a student should only progress to skill two after they have mastered skill one. They must build those foundational skills before moving to advanced content.
When students achieve true mastery, their confidence grows and they feel more capable.
So what does mastery-based grading look like in practice? In Modern Classrooms, teachers create bite-size, end-of-lesson assessments that efficiently and effectively measure student understanding. These can look like a mini quiz, a sorting activity, or verbal assessments that allow the teacher to evaluate whether a student truly understands a new skill or concept. Revision and reassessment are key to mastery-based grading. If a student is struggling with an assessment, they receive feedback and the opportunity to revise. When students achieve true mastery, their confidence grows and they feel more capable.
A Model for all Learning Environments
While the Modern Classrooms instructional model was not solely designed for remote or hybrid learning, the blended, self-paced, mastery-based model is adaptable to all learning environments. When COVID-19 forced school closures in March, Modern Classroom educators had the advantage of already knowing how to integrate instructional videos and self-pacing into their classrooms. Modern Classroom educator Monte Woodard reported "this model has given me tools and confidence to execute a framework that allows students to be successful inside and outside of the classroom."
When students are in the driver's seat of their learning, they become more self-directed and autonomous, preparing them for future success in the real world.
In a hybrid schedule, blended instruction is a great way to deliver lessons to all students regardless of their learning environment and maintain instructional progress. Students can watch instructional videos from home and can directly apply what they learned when they return to the physical classroom. In-person class time can be reserved for group discussions, collaborative group work, and connecting with students one-on-one. Blended instruction frees educators of lecture, allowing them to utilize the limited and precious in-person class time for relationship building and personalized student support.
Self-pacing becomes even more important as students transition between in-person and online learning. Some students may excel with online learning, while others struggle and become disengaged or overwhelmed. It's important that educators have a pulse on their students and can track each student's progress individually. If they see one student struggling with a lesson, they can provide additional support and prevent extreme learning gaps. Our teachers have long found both student-facing and public pacing trackers to be powerful tools for clarity and motivation in a self-paced learning environment.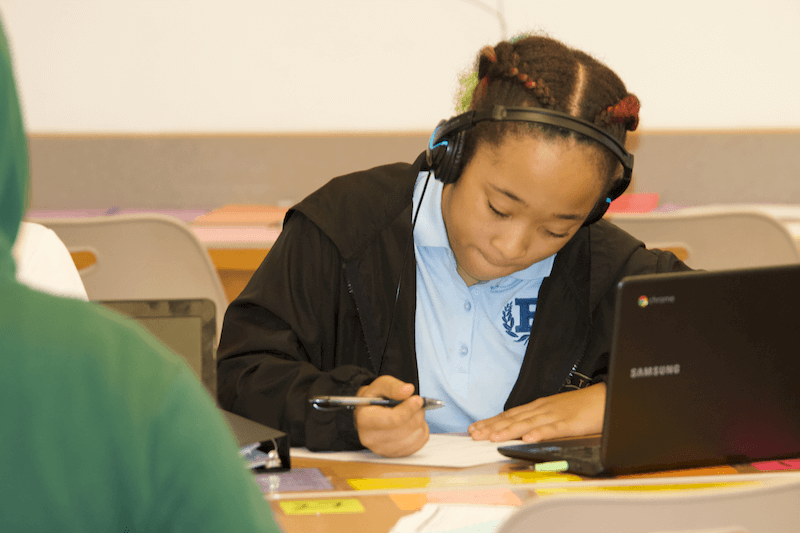 Since students can access their teacher through short objective-driven videos and move through a unit of study at their own unique pace, teachers can give students the targeted, personalized feedback–in-person or virtually– that's necessary for a mastery-based learning environment. Revision is truly possible because the blended, self-paced nature means that students can review materials, get help from a classmate, or receive one-on-one support from their teacher. When the student is prepared, they can revise their work to demonstrate mastery, which builds a firm foundation upon which future skills and content can build.
Transforming a classroom with this instructional model won't happen overnight. It takes time, practice, and continual tinkering! But just as Rob and Kareem started with a few short instructional videos, there are simple steps you can take to move towards blended, self-paced, mastery-based learning. Visit learn.modernclassrooms.org to learn more.
In the second blog in this series we'll look at how the Modern Classrooms Project model provides a path forward for educators as they transition out of hybrid learning.
Want to know how Swivl can support blended, self-paced, mastery-based learning in and out of the classroom? Check out our Classroom Observation page for more information.
Modern Classrooms Project
The Modern Classrooms Project empowers educators to meet every student's needs through blended, self-paced, mastery-based instruction. They support over 20,000 educators worldwide through their free online course, virtual mentoring programs, and school and district partnerships. Their research-backed instructional model leverages technology and real-time data to improve teacher effectiveness and student understanding.