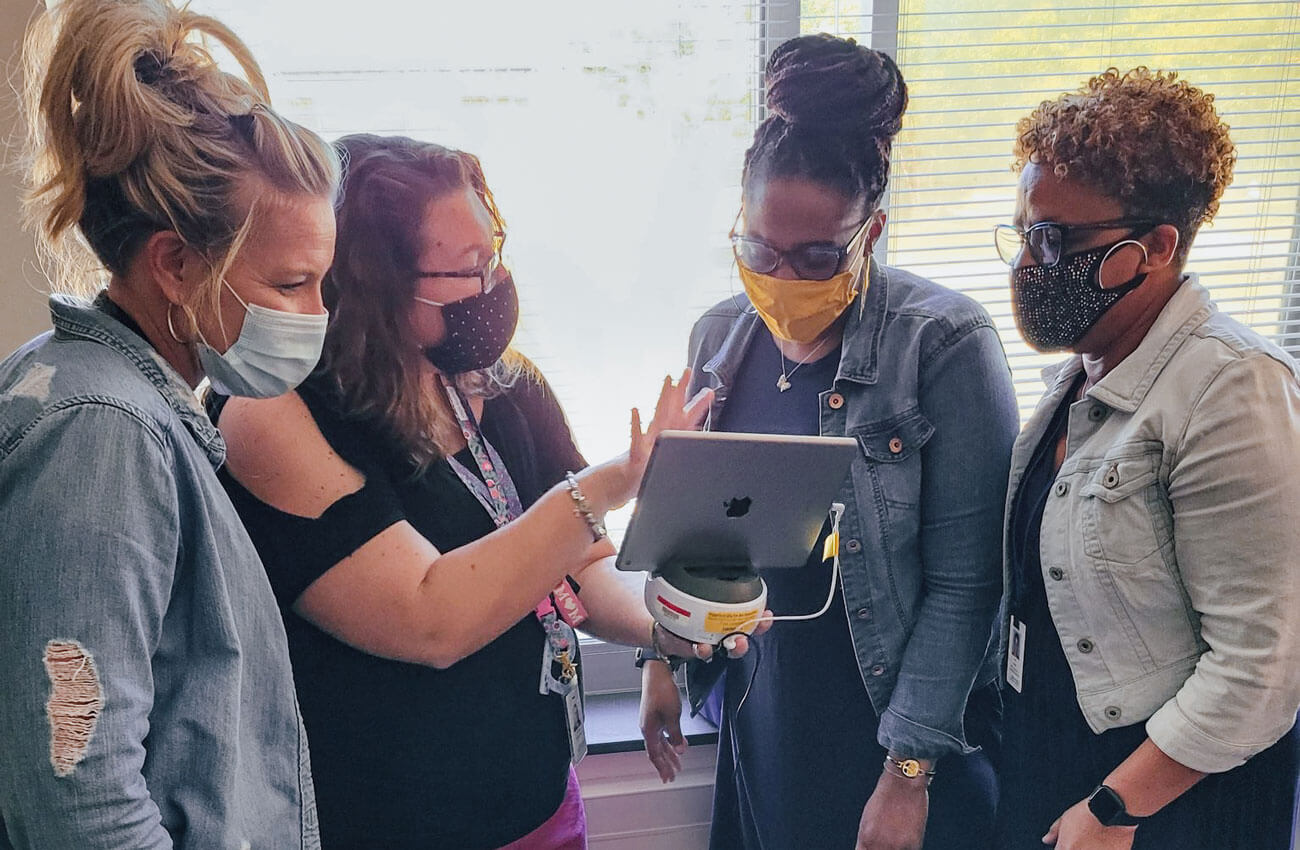 This blog is focused on the use of Swivl Teams. Teams is now Reflectivity – learn why we changed our name →
Guilford County needed a flexible, efficient way to support and assess a math curriculum implementation.
Kat Stevens is the PreK-12 Director of Math in Guilford County Schools, a district of over 70,000 students and 120 schools in North Carolina. The district's 27 middle schools recently adopted a new math curriculum with a goal of providing an equitable math education for all students.
But a successful curriculum implementation would require ongoing teacher support and assessment. "Just handing out books is not enough," Kat said.
To support this, Guilford County needed an implementation plan that was time and resource-efficient, while encouraging teachers to self-reflect and collaborate with coaches.
Another challenge for Guilford County was their size. District leadership needed to assess and support hundreds of teachers with various needs and experience levels. Kat recalled needing to help a 30-year veteran teacher buy-in to the need for a district-wide curriculum, while helping a first-year teacher master the new curriculum content.
Ultimately, Kat's vision was about equity. "Every kid deserves high-quality math instruction," she said.
District leaders assess 27 middle schools and coaches support hundreds of teachers through Swivl Teams + Robots
With one math supervisor dedicated to supporting 27 middle schools, Kat and her district leadership team have leveraged several outside teacher coaching consultancies to provide job embedded coaching. This coaching supports the implementation of the new math curriculum across the district's middle schools.
Through recording, sharing and discussing instructional videos through Swivl Teams + Robots, Kat shared that her coaches approach their work with a mindset of, "What do we see? What do we hear? How do we support the glows and grows of math curriculum implementation?"
Video also helps Guilford develop a shared language and consistent set of expectations for the delivery of their curriculum. Instructional leaders visit classrooms to model lessons streamed live for coaches and others to watch and discuss. Through this process, they ensure district leaders, coaches, and teachers are aligned with what success looks like and how to talk about it.
Guilford County has learned that the benefits of self-reflection and coaching over classroom video go beyond reducing the need for travel. Even though coaches have returned to visiting classrooms, they record lessons so that teachers can self-reflect over the videos during PLCs and coaching sessions.
"It's always important for teachers to self-reflect," Kat said. "When you think about an effective coaching model, it's not about a coach telling teachers what to do, but a coach supporting me in conversation and helping me see what I need to do."
As Guilford County navigates large-scale change, Swivl tools make alignment and growth easier at all levels
Guilford County's use of Swivl tools has led to improvements at all levels of the district.
In the classroom, Kat believes Swivl Teams + Robots empowers teachers to not only improve through work with coaches, but to take ownership of their growth through self-reflection over video.
"Swivl Teams + Robots has improved our coaching conversations because teachers are not only able to have their coaches watch them, but they're able to go back, watch the video and reflect on their own teaching," Kat said.
Kat believes the Swivl Robot's ability to track educators as they move around the room, as well the high-quality audio captured by Swivl's audio markers make a significant difference in the coaching and self-reflection experience.
"There's such a difference between putting up a laptop and recording versus having that Swivl full view and seeing everything that's going on," Kat said. She also noted Guilford County teachers and coaches love to use audio markers to bookmark important moments during lessons.
While classroom visits can be stressful for teachers and students, videos captured by Swivl Robots and shared through Swivl Teams allow administrators to get a more accurate picture of their implementation with less stress on teachers and students.
Ultimately, it's about putting tools and systems in place to ensure a great math education
At the building and district level, capturing, sharing and discussing classroom videos ensures everyone in Guilford is "aligned with what high-quality instruction looks like," as Kat put it.
Kat believes the biggest impact Swivl Teams + Robots have had on her leadership team has been helping the district be more aligned while saving time by capturing, sharing and discussing classroom video.
"We can have conversations no matter where we are," Kat said. "I can go into a classroom anytime, anywhere, even if I'm not in the building. So it supports our conversation as leaders."
Through frequent self-reflection, coaching, and administrator alignment, all supported with classroom video, Guilford County has put the tools and systems in place to ensure every student gets the high-quality math instruction they deserve.
Ready to ensure all your teachers have the support they need
to deliver high-quality instruction?