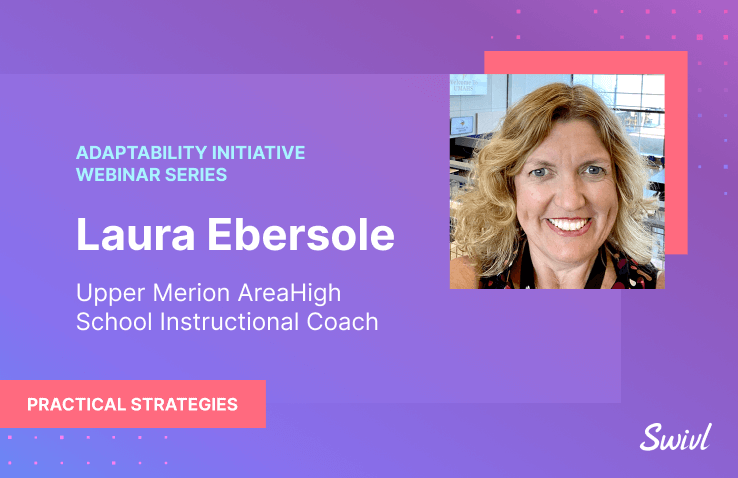 Education is constantly changing. With the rapid evolution, becoming adaptable isn't merely a desirable quality anymore; it's a requirement. To support educators through education's changes, we developed the Swivl Adaptability Initiative. For this initiative, we are partnering with educational institutions and districts to implement design thinking methodologies, creating a learning environment that promotes collaboration, problem solving, and continuous improvements for educators and ultimately, students.
As part of the Adaptability Initiative, we have created the Adaptability Initiative Webinar Series featuring the industry's leading thought leaders and educators in AI. On Tuesday, September 19, 2023, Laura Ebersole presented to an audience of Teachers, Instructional Coaches and more on "Adaptability: Building Learning Communities through Engagement, Representation, Action, and Expression."
Who is Laura Ebersole
With over 20 years of high school instruction under her belt, Laura Ebersole is currently a high school instructional coach at Upper Merion Area High School in King of Prussia, PA. Laura's work focuses on improving student voice and choice in the curriculum, while creating environments responsive to student needs. She also focuses on AI, Universal Design for Learning, and design thinking.
A Google Certified Trainer and Coach, Laura has presented for the International Society for Technology in Education Conference in 2020 and 2023, the Pennsylvania Council of Teachers of English and Language Arts Conference in 2021, and the Pennsylvania Association of School Administrators Women's Caucus in 2023. Laura is an advocacy chair of the Pennsylvania Association for Educational Communications and Technology, and has won a variety of industry awards. In her spare time, she enjoys reading and attending theatrical events.
What Laura Presented
During her presentation, Laura explained the importance of CAST's Universal Design for Learning (UDL) and how she has used this framework to integrate AI for personalized learning in her school. Laura also showcased the three vertical groups of the UDL guidelines: Engagement (the why of learning), Representation (the what of learning) and Action and Expression (how we are going about learning), expressing its importance and necessity.
This session also expressed how vital it is for teachers to know how students learn before diving into AI tools, so that they can use the tools that will best meet the needs of the students. When using AI, students and teachers should always be the center focus.
Check out the full webinar replay by clicking below.
We're partnering with schools and districts around the country to create learning communities that fuel the momentum needed to build adaptability among teachers—especially when it comes to AI.
Connect with us to start building an adaptable community.