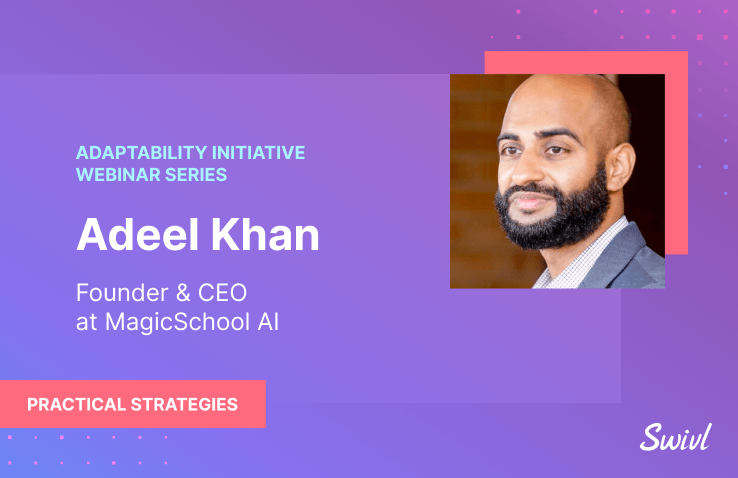 To support educators through education's changes brought on by AI we developed the Swivl Adaptability Initiative. We are collaborating with districts and schools to implement design thinking approaches, fostering an educational setting that encourages collaboration, problem-solving, and ongoing enhancements for educators, and ultimately, for students.
With the Adaptability Initiative Webinar Series, we are sharing insights on AI's impact on education and practical strategies from the industry's leading AI thought leaders and educators. On Thursday, September 21, 2023, CEO and Founder of MagicSchool.ai Adeel Khan presented "AI in Education with MagicSchool." Attendees learned how the generative AI tool helps educators fight burnout, save time, and get high quality information when utilizing the appropriate prompts.
Who is Adeel Khan
A former teacher turned assistant principal, Adeel Khan has served in various leadership roles in education in Denver, CO before becoming the Founder and CEO of MagicSchool.ai.
Prior to developing MagicSchool.ai, Adeel founded and led DSST: Conservatory Green High School, the top performing public high school in Colorado.
Adeel's passion for technology and expertise in education led him to also create Uncharted AI, an organization that explores transformative potential in AI learning.
What Adeel Presented
During his presentation, Adeel demonstrated how to use MagicSchool.ai, an AI assistant with complimentary sign up for educators. WIth over 50 AI tools powered by generative AI, MagicSchool lightens the burden for educators and makes their work easy.
Adeel assured the audience that AI is a starting point: not the final solution. He also stressed the importance of checking for bias and accuracy when using AI tools, and always encouraging teachers to remember that protecting privacy for all students is vital. Sharing personal information over MagicSchool.ai is forbidden.
Adeel also reviewed some of MagicSchool's most popular features: Raina, the AI chatbot; the Academic Content Generator; and the Teacher Joke Generator. He specifically spent additional time giving an overview of the user-favorite feature: the Rubric Generator. This tool allows educators to enter customized details to generate a rubric that would normally take one hour to complete, within a matter of seconds.
Check out the full webinar replay by clicking below.
We're partnering with schools and districts around the country to create learning communities that fuel the momentum needed to build adaptability among teachers—especially when it comes to AI.
Connect with us to start building an adaptable community.