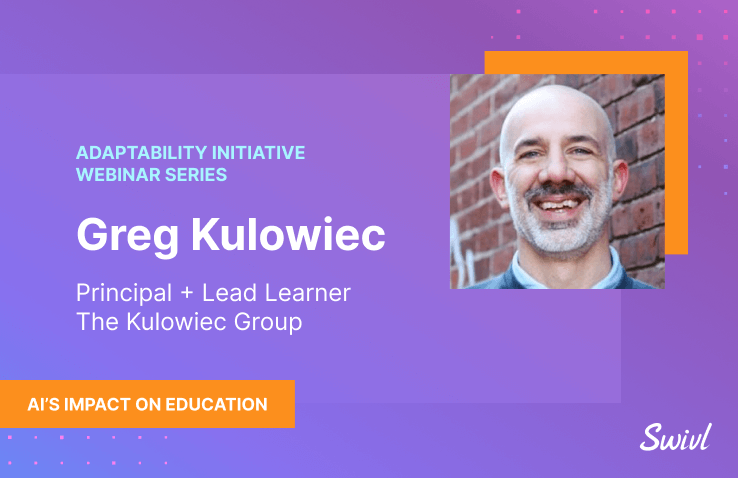 In the ever-evolving landscape of education, adaptability is not just a virtue; it's a necessity. We find ourselves in the age of AI, where technology is reshaping how we teach and learn. That's precisely why we launched the Adaptability Initiative. Through this initiative, we're forging partnerships with schools and districts to create dynamic learning communities that turn ideas into actionable strategies. Our focus? Building essential skills for thriving in an AI-driven world, but also embracing adaptability for any new challenges that come your way.
One of the key aspects of our Adaptability Initiative is collaborating with thought leaders like Greg Kulowiec. On Tuesday, September 12, 2023 Greg kicked off the Adaptability Initiative Webinar Series with his presentation titled: "The Impact and Implication of AI on Teaching and Learning."
Who is Greg Kulowiec
With two decades in education, Greg Kulowiec brings a unique approach to professional learning that blends his experience as a high school history teacher, professional learning provider and Director of Technology. Greg uses his expertise to partner with edtech companies to develop curriculum materials, teacher resources, and professional learning.
Currently the Director of Technology at the Triton Regional School District and the Lead Learner and Principal of the Kulowiec Group, Greg understands both the opportunities and challenges that are presented when introducing technology into schools and classrooms.
What Greg Presented
During this presentation Greg addresses how the emergence of universally accessible AI is having, and will continue to have, significant impacts on teaching and learning. These impacts need to be thoughtfully considered. His presentation explores AI from both a thirty thousand foot perspective and an on the ground lens. From the exploration of relevant skills and abilities impact and informed by the capacity of AI, to practical approaches that educators can use to enhance teaching and learning, the session is designed to spark curiosity, inform meaningful use of AI and empower educators to have informed discussion in their school or district.
You can watch the full webinar replay by clicking the button below.
We're partnering with schools and districts around the country to create learning communities that fuel the momentum needed to build adaptability among teachers—especially when it comes to AI.
Connect with us to start building an adaptable community.